Recensie
Waar luister ik naar? Waar luister ik naar? Het is de vraag die ik me de afgelopen tijd heel vaak gesteld heb. Heus, ik weet het écht wel. Ik luister naar Revolver. Een Beatles-album dat toch zeker al zo'n dertig jaar deel uit maakt van mijn persoonlijke muzikale geheugen. Ik heb die plaat ontelbaar vaak geluisterd en ben ook heel vaak opnieuw verrast over de kwaliteit van de nummers. Die informatie wis je dus niet zo gemakkelijk op je harde schijf. Sterker: die (op één seconde na) 35 minuten uit 1966 leken voor altijd bij me te blijven. En daar ben ik natuurlijk niet uniek in. Dat geldt voor hele volksstammen Beatlesliefhebbers.
Maar dan word je ineens geconfronteerd met de 2022-mix van dit album. Die maakt dat het muzikale geheugen compleet op de kop staat. Feitelijk kun je weer opnieuw beginnen met het verliefd worden op dit album.
Natuurlijk: Revolver werd door velen al gezien als één van de beste Beatles-albums. Maar het moet gezegd: deze 2022-mix van producer Giles Martin en engineer Sam Okell voegt een fenomenale muziekplus toe.
Soms is het bijna zinloos om over muziek te schrijven. Dan kun je dat veel beter écht ervaren. Ondergaan. Voelen. In je hart. Bij Revolver 2022 is dat het geval. Dat zit hem soms in een klein fragment. In een milliseconde. Het fluweelzacht gezongen woordje 'sleeeeping…' in I'm Only Sleeping bijvoorbeeld. Of die bekkenregens in Taxman. Of McCartney die bijna naast je lijkt te zitten als hij zijn Eleanor Rigby-woorden gedragen voordraagt. Of de kletterende Indiase tabla in Love To You. Het zijn stuk voor stuk pareltjes voor het gehoor.
Neem Here, There And Everywhere als ander voorbeeld. Voor mij persoonlijk is dat al jaren het allermooiste Beatlesnummer. Dat kan dus niet beter, zou je zeggen. Maar in deze 2022-mix komt de koorzang zo hard binnen dat tranen alras over de wangen lopen.
En dat is nog lang niet alles natuurlijk. Ik doe een willekeurige graai uit al het moois dat nog rijker dan voorheen uit de boxen vloeit. Neem die uiterst verfijnde akoestische gitaar van Yellow Submarine. En luister eens naar die breed uitgesmeerde lage pianonoten in Good Day Sunshine. Of de vlijmscherpe Harrison-partij in And Your Bird Can Sing en de hemelse hoornpartij van gastmuzikant Alan Civil in For No One. De buitelende gitaarnoten die overheerlijk vermengen met het harmonium in Doctor Robert. De klaterende handclaps in I Want To Tell You. De fenomenale slaggitaar van Lennon in She Said She Said. De rauwe McCartneyschreeuw in Got To Get You Into My Life. De dwingende basnoten over de repeterende Ringoriff in de hallucinerende dronecompositie Tomorrow Never Knows. Er is zoveel moois te ontdekken. Het. Houdt. Niet. Op.
En dan heb ik het nog helemaal niet gehad over de Deluxe-editie of de Super Deluxe-editie inclusief uitgebreide boekwerken. De Deluxe-dubbelaar laat extra demo's horen en brengt een select aantal muzikale hoogtepunten uit de studiosessies. De Super Deluxe-variant bevat twee bomvolle albums met alternatieve studiotakes en oefensessies. Maar ook nog een volledige mono-versie van Revolver en een EP met de opnieuw gemixte nummers Rain en Paperback Writer. Smullen, smullen, smullen.
Het album Revolver ontkende in 1966 een terechte muzikale revolutie. Natuurlijk is er in 2009 al eens een behoorlijke remix geweest. Maar anno 2022 is er zonder overdrijven een onbetwiste tweede Revolver-revolutie bij gekomen. Stel je er voor open en deze mix zit voor minimaal 56 jaar in je hart.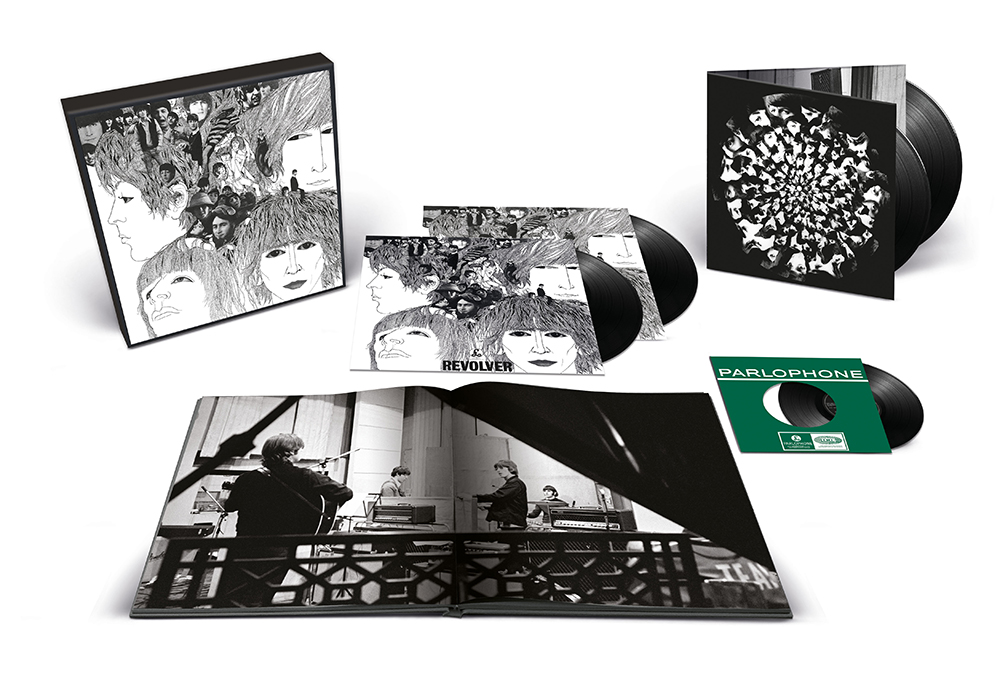 Tracks
Disc 1
1. Taxman (2022 Mix)
2. Eleanor Rigby (2022 Mix)
3. I'm Only Sleeping (2022 Mix)
4. Love You To (2022 Mix)
5. Here, There And Everywhere (2022 Mix)
6. Yellow Submarine (2022 Mix)
7. She Said She Said (2022 Mix)
8. Good Day Sunshine (2022 Mix)
9. And Your Bird Can Sing (2022 Mix)
10. For No One (2022 Mix)
11. Doctor Robert (2022 Mix)
12. I Want To Tell You (2022 Mix)
13. Got To Get You Into My Life (2022 Mix)
14. Tomorrow Never Knows (2022 Mix)
Disc 2
1. Tomorrow Never Knows (Take 1)
2. Tomorrow Never Knows (Mono Mix Rm 11)
3. Got To Get You Into My Life (First Version / Take 5)
4. Got To Get You Into My Life (Second Version / Unnumbered Mix)
5. Got To Get You Into My Life (Second Version / Take 8)
6. Love You To (Take 1)
7. Love You To (Unnumbered Rehearsal)
8. Love You To (Take 7)
9. Paperback Writer (Takes 1 & 2 / Backing Track)
10. Rain (Take 5 / Actual Speed)
11. Rain (Take 5 / Slowed Down For Master Tape)
12. Doctor Robert (Take 7)
13. And Your Bird Can Sing (First Version / Take 2)
14. And Your Bird Can Sing (First Version / Take 2 / Giggling)
Disc 3
1. And Your Bird Can Sing (Second Version / Take 5)
2. Taxman (Take 11)
3. I'm Only Sleeping (Rehearsal Fragment)
4. I'm Only Sleeping (Take 2)
5. I'm Only Sleeping (Take 5)
6. I'm Only Sleeping (Mono Mix Rm1)
7. Eleanor Rigby (Speech Before Take 2)
8. Eleanor Rigby (Take 2)
9. For No One (Take 10 / Backing Track)
10. Yellow Submarine (Songwriting Work Tape / Part 1)
11. Yellow Submarine (Songwriting Work Tape / Part 2)
12. Yellow Submarine (Take 4 Before Sound Effects)
13. Yellow Submarine (Highlighted Sound Effects)
14. I Want To Tell You (Speech & Take 4)
15. Here, There And Everywhere (Take 6)
16. She Said She Said (John's Demo)
17. She Said She Said (Take 15 / Backing Track Rehearsal)
Disc 4
1. Taxman (Mono)
2. Eleanor Rigby (Mono)
3. I'm Only Sleeping (Mono)
4. Love You To (Mono)
5. Here, There And Everywhere (Mono)
6. Yellow Submarine (Mono)
7. She Said She Said (Mono)
8. Good Day Sunshine (Mono)
9. And Your Bird Can Sing (Mono)
10. For No One (Mono)
11. Doctor Robert (Mono)
12. I Want To Tell You (Mono)
13. Got To Get You Into My Life (Mono)
14. Tomorrow Never Knows (Mono)
Disc 5
1. Paperback Writer (2022 Stereo Mix)
2. Rain (2022 Stereo Mix)
3. Paperback Writer (Mono)
4. Rain (Mono)
Disc 6
1. Revolver (2022 Box Set / Book)