Recensie
Over het boek:
Het boek bevat niet eerder gepubliceerde foto's van de zeven concerten die Springsteen en de E Street Band bij hun eerste bezoek aan Houston, Texas in 1974 gaven. Springsteen en E Street Band-bassist Garry Tallent, de huidige partner van Germaine, schreven ieder een voorwoord in het boek. Springsteen en de band (met hierin naast Clarence Clemons, Garry Tallent en Danny Federici David Sancious op piano en Ernest Boom Carter op drums) waren van 7 tot 11 maart 1974 voor vier dagen in Houston en traden zeven keer op (op drie van de vier dagen waren er twee shows) in Liberty Hall. Nicki Germaine was aanwezig om Bruce op en naast het podium op beeld vast te leggen. De foto's geven een uniek beeld van Springsteen en de vroege E Street Band die nog hard aan de weg timmerden.
Voorwoord Springsteen
Springsteen schrijft erover in het voorwoord: "Gelukkig was er iemand om alle onschuld en nonchalance die de E Street Band in 1974 nog had vast te leggen. Niemand wist wie de fotograaf, Nicki Germaine, was, maar in die dagen maakte dat niet veel uit om toch dicht bij de band te komen. Wij hadden geen oppassers, geen buffers, en ze was gewoon een leuke meid met een camera. Fotografeer er maar op los! Zij trof een zeer unieke samenstelling van de band, met Davey Sancious en Boom Carter. We waren in onze pre-Max-en-Roy-dagen en lieten alles maar begaan. We waren nog niet bekend, we kwamen zo van de straat en begaven ons onder de lokale bevolking als we in een stad waren. Nicki legde ons met de glorie waar we reikhalzend naar uitkeken op foto vast, op exotische plaatsen (en dat was praktisch overal) waar onze talenten ons zouden brengen. Dit zijn foto's van 'vroeger'. Het zou niet lang meer duren."
Bob Santelli, muziekjournalist en de huidige directeur van het Grammy museum, schreef een begeleidende tekst in het 168 pagina's tellend boek.
The book: A treasure trove of previously unpublished photographs by Nicki Germaine taken over four nights at Liberty Hall in Houston Texas, in March 1974.
First edition hardcover book, 10.1 x 13.1 inches
168 pages, 95 black & white and colour photographs, most previously unpublished
Introduction by Bruce Springsteen
4,000 word essay by Bob Santelli
Additional essay by Garry Tallent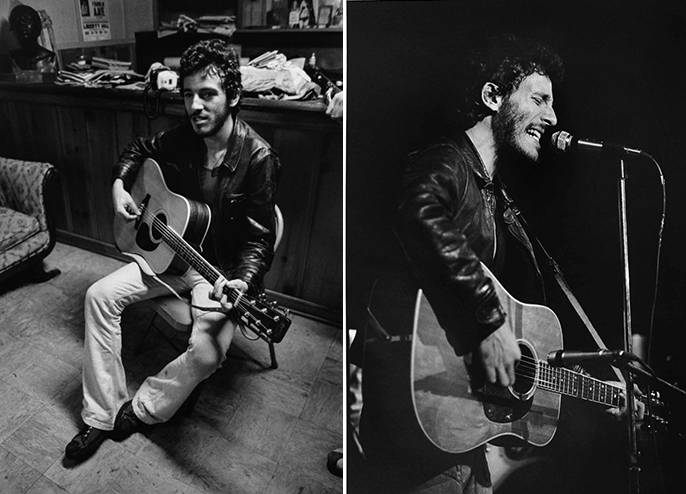 "Nicki caught us in all our wide-eyed glory at the exotic places (virtually everywhere) that our talents would take us. These are photos from "before." It wouldn't last much longer, but here it is. Enjoy these wonderful photographs." (Bruce Springsteen)
'MEET ME TONIGHT DOWN AT LIBERTY HALL'
SPRINGSTEEN: LIBERTY HALL by Nicki Germaine
Book review by Dan French
When Bruce Springsteen wrote 'meet me tonight down at Liberty Hall' in the lyrics of 'This Hard Land', with its geographical reference to the Rio Grande, he had to be thinking of Liberty Hall in Houston, the famous site of the (then as yet still unnamed) E Street Band's first live performances in Texas in March 1974, early intimate gigs that would seal their relationship with the Lone Star State.
This was a formative time in the young band's career, still struggling to succeed with record sales in the days before their ground-breaking 'Born To Run' album, but already accomplished as a live act, having paid their dues with regular touring and building a reputation as a must-see name.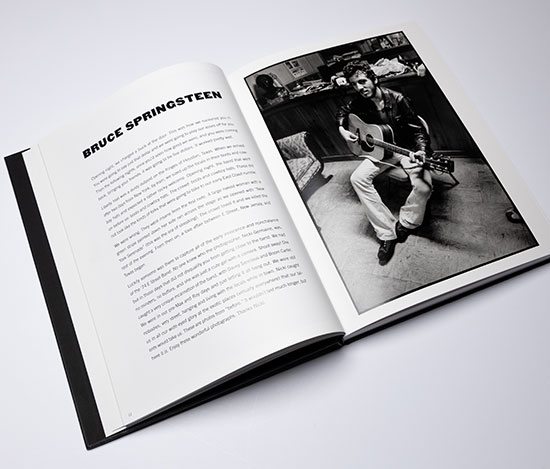 Nicki just happened to be the right person in the right place at the right time, her photos capturing the band's 'wide-eyed glory', its 'innocence and nonchalance' in 1974 before fame struck the following year. Bruce Springsteen himself lays out their wary expectations at the time in his foreword, recalling their amazement that their 'East Coast rumble' caused the Southern locals to go 'insane from the first note'.
Robert Santelli adds further context to the story in a detailed essay, noting that the band had already played around 200 shows in 1973, driven relentlessly by manager Mike Appel, and were constantly dealing with exhaustion, hoping their gruelling efforts would pay off. Unconventionally, they chose to take a two-day train ride south to Houston, following their first nerve-wracking turbulent plane experience. Crucially, a demo of the unreleased 'The Fever' got heavy rotation on Houston radio and increased audience expectations in advance.
A local Columbia promoter was instrumental in bringing Nicki Germaine to the scene, a local photographer already familiar with the first venue. She was clearly impressed with the band's professionalism and Bruce's talent for stage dynamics, storytelling, and working the crowd. The engagement was almost doubled with extra sold out shows added after the initial response, and the buzz spread to the following Texan cities, Austin and Dallas. Tickets were as cheap as $1.00 in Austin, but even higher prices sold 'briskly'.
Garry Tallent adds his own memories of that 'pivotal' period, thanking his now life partner Nicki for showing 'our fatigue, our hope, the promise of a real shot.' It was Garry who contacted her in 2011 initially about another Liberty Hall article on him, and the re-discovery of her portfolio led to the germination of the book idea in 2018.
Remarkably, it's taken almost 50 years for most of these classic photos to come to light. Gloriously presented in both black and white and colour, giving the then bravely integrated half white, half black 'Yankee' band a larger-than-life quality, they put you right in that space and time with them. Front row action is framed with cigarette packs and beer cans on the lip of the stage. Nicki's book is augmented with rare contemporary historical images, such as a tour poster and live review, to flesh out the vivid recreation of this time capsule. She portrayed their various characters off as well as on stage, ranging from reserved to extrovert, and a few of her pictures highlighted a Rolling Stone magazine feature on the Texan swing. Only a month later, Jon Landau's famous 'rock & roll future' line would emerge, and the following history is well known.
Few Springsteen books have focused on a particular location and time, but those that have are very welcome, such as 'Springsteen In Ireland', 'Bruce Springsteen & The E Street Band 1975', and 'Live In The Heartland'. The most comprehensive publication previously documenting images of an early line-up of the band was by David Gahr. Now Nicki Germaine joins that select club, with a revelatory volume that genuinely deserves the label a labour of love, collecting many previously unseen photos of Bruce and the band at the exact time as they were making that first impact in the American South.