Recensie
CD Box Set:
128 Page hardback book
Diamond Dogs (remastered) (1 CD)
David Live (original mix) (remastered) (2 CD) *
David Live (2005 mix) (remastered) (2 CD)
The Gouster (previously unreleased as an album) (1 CD) *
Young Americans (remastered) (1 CD)
Station To Station (remastered) (1 CD)
Station To Station (Harry Maslin 2010 mix) (1 CD) *
Live Nassau Coliseum '76 (2 CD)
Re:Call 2 (Single versions and non album B-sides) (remastered) (1 CD) *
* Exclusief voor 'Who Can I Be Now? (1974 – 1976)'
Na de met veel lof ontvangen box Five Years volgt Who Can I Be Now. De titel is ontleend aan een nummer dat tijdens de sessies voor Young Americans werd opgenomen, en is meer dan toepasselijk voor deze periode. Want nadat Bowie Ziggy Stardust letterlijk vaarwel zei tijdens het laatste concert van de bijbehorende tournee – terug te vinden in Five Years – moest Bowie zichzelf opnieuw uitvinden. Dat deed hij in Amerika, en vooruitlopend op wat ongetwijfeld de volgende box gaat worden met daarin de Berlijnse jaren, had de ondertitel van deze box The American Years kunnen luiden. Ditmaal slechts drie studio-albums: Diamond Dogs (1974), Young Americans (1975) en Station To Station (1976). De eerste was oorspronkelijk bedoeld als een conceptplaat naar de roman van George Orwell, maar dat concept verwaterde nadat de erven van de schrijver daar geen toestemming voor gaven. Ondanks de single Rebel Rebel – in Hilversum ogenomen – vielen de verkoopcijfers tegen, maar de gesofisticeerde funk van 1984 wees vooruit naar Young Americans, waarna Bowie de plastic soul perfectioneerde op Station To Station, het beste studio-album uit deze jaren. Van de daarbij behorende tour krijgen we op Live Nassau Coliseum '76 een indrukwekkend concert (eerder verschenen bij de deluxe edition van Station To Station). David Live (1974) ontbreekt uiteraard evenmin, en daarvan krijgen we twee verschillende mixen. Hetzelfde geldt voor Station To Station, waardoor de box veel doublures bevat. Van Young Americans is bovendien de eerste versie toegevoegd, hier gepresenteerd als The Gouster, maar op andere mixen van nummers die Young Americans haalden én outtakes die op Ryko-reissue al te vinden waren, horen we niets van de befaamde Sigma-tape. Een gemiste kans. Op Re: Call 2 single- en radioversies, stuk voor stuk eerder uitgebracht, maar nu handzaam bijeen. Het geheel ziet er weer geweldig fraai uit, en van lijkenpikkerij is allerminst sprake – het eerste deel werd samengesteld toen Bowie nog onder ons was en is net als Who Can I Be Now bedoeld om Bowies onsterfelijke oeuvre te archiveren. Daarom kijken we nu al uit naar de doos met de Berlijnse jaren – al hoeven we daar Stage niet twee- of driemaal in terug te vinden.
Klik
HIER
voor David Bowie op CD
Klik
HIER
voor David Bowie op LP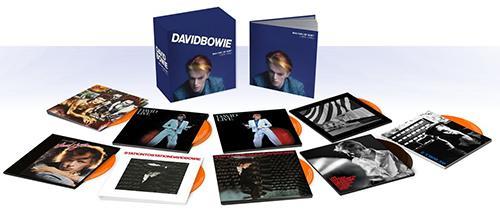 Tracks
Disc 1
1. Future Legend (2016 Remastered Version)
2. Diamond Dogs (2016 Remastered Version)
3. Sweet Thing (2016 Remastered Version)
4. Candidate (2016 Remastered Version)
5. Sweet Thing (Reprise) (2016 Remastered Version)
6. Rebel, Rebel (2016 Remastered Version)
7. Rock 'n' Roll With Me (2016 Remastered Version)
8. We Are The Dead (2016 Remastered Version)
9. 1984 (2016 Remastered Version)
10. Big Brother (2016 Remastered Version)
11. Chant Of The Ever Circling Skeletal Family (2016 Remastered Version)
Disc 2
1. 1984 (Live) (2016 Remastered Version)
2. Rebel, Rebel (Live) (2016 Remastered Version)
3. Moonage Daydream (Live) (2016 Remastered Version)
4. Sweet Thing/candidate/sweet Thing (Live) (2016 Remastered Version)
5. Changes (Live) (2016 Remastered Version)
6. Suffragette City (Live) (2016 Remastered Version)
7. Aladdin Sane (Live) (2016 Remastered Version)
8. All The Young Dudes (Live) (2016 Remastered Version)
9. Cracked Actor (Live) (2016 Remastered Version)
10. Rock 'n' Roll With Me (Live) (2016 Remastered Version)
11. Watch That Man (Live) (2016 Remastered Version)
12. Knock On Wood (Live) (2016 Remastered Version)
13. Diamond Dogs (Live) (2016 Remastered Version)
14. Big Brother (Live) (2016 Remastered Version)
15. The Width Of A Circle (Live) (2016 Remastered Version)
16. The Jean Genie (Live) (2016 Remastered Version)
17. Rock 'n' Roll Suicide (Live) (2016 Remastered Version)
Disc 3
1. 1984 (Live) (2005 Mix) (2016 Remastered Version)
2. Rebel Rebel (Live) (2005 Mix) (2016 Remastered Version)
3. Moonage Daydream (Live) (2005 Mix) (2016 Remastered Version)
4. Sweet Thing/candidate/sweet Thing (Live) (2005 Mix) (2016 Remastered Version)
5. Changes (Live) (2005 Mix) (2016 Remastered Version)
6. Suffragette City (Live) (2005 Mix) (2016 Remastered Version)
7. Aladdin Sane (Live) (2005 Mix) (2016 Remastered Version)
8. All The Young Dudes (Live) (2005 Mix) (2016 Remastered Version)
9. Cracked Actor (Live) (2005 Mix) (2016 Remastered Version)
10. Rock 'n' Roll With Me (Live) (2005 Mix) (2016 Remastered Version)
11. Watch That Man (Live) (2005 Mix) (2016 Remastered Version)
12. Knock On Wood (Live) (2005 Mix) (2016 Remastered Version)
13. Here Today, Gone Tomorrow (Live) (2005 Mix) (2016 Remastered Version)
14. Space Oddity (Live) (2005 Mix) (2016 Remastered Version)
15. Diamond Dogs (Live) (2005 Mix) (2016 Remastered Version)
16. Panic In Detroit (Live) (2005 Mix) (2016 Remastered Version)
17. Big Brother (Live) (2005 Mix) (2016 Remastered Version)
18. Time (Live) (2005 Mix) (2016 Remastered Version)
19. The Width Of A Circle (Live) (2005 Mix) (2016 Remastered Version)
20. The Jean Genie (Live) (2005 Mix) (2016 Remastered Version)
21. Rock 'n' Roll Suicide (Live) (2005 Mix) (2016 Remastered Version)
Disc 4
1. John, I'm Only Dancing (Again) (2016 Remastered Version)
2. Somebody Up There Likes Me (Alternative Gouster Mix)
3. It's Gonna Be Me (Without Strings) (2016 Remastered Version)
4. Who Can I Be Now? (2016 Remastered Version)
5. Can You Hear Me (Alternative Gouster Version)
6. Young Americans (2016 Remastered Version)
7. Right (Alternative Gouster Mix)
Disc 5
1. Young Americans (2016 Remastered Version)
2. Win (2016 Remastered Version)
3. Fascination (2016 Remastered Version)
4. Right (2016 Remastered Version)
5. Somebody Up There Likes Me (2016 Remastered Version)
6. Across The Universe (2016 Remastered Version)
7. Can You Hear Me (2016 Remastered Version)
8. Fame (2016 Remastered Version)
Disc 6
1. Station To Station (2016 Remastered Version)
2. Golden Years (2016 Remastered Version)
3. Word On A Wing (2016 Remastered Version)
4. Tvc 15 (2016 Remastered Version)
5. Stay (2016 Remastered Version)
6. Wild Is The Wind (2016 Remastered Version)
Disc 7
1. Station To Station (2010 Harry Maslin Mix)
2. Golden Years (2010 Harry Maslin Mix)
3. Word On A Wing (2010 Harry Maslin Mix)
4. Tvc 15 (2010 Harry Maslin Mix)
5. Stay (2010 Harry Maslin Mix)
6. Wild Is The Wind (2010 Harry Maslin Mix)
Disc 8
1. Station To Station (Live Nassau Coliseum '76)
2. Suffragette City (Live Nassau Coliseum '76)
3. Fame (Live Nassau Coliseum '76)
4. Word On A Wing (Live Nassau Coliseum '76)
5. Stay (Live Nassau Coliseum '76)
6. Waiting For The Man (Live Nassau Coliseum '76)
7. Queen Bitch (Live Nassau Coliseum '76)
8. Life On Mars? (Live Nassau Coliseum '76)
9. Five Years (Live Nassau Coliseum '76)
10. Panic In Detroit (Live Nassau Coliseum '76)
11. Changes (Live Nassau Coliseum '76)
12. Tvc 15 (Live Nassau Coliseum '76)
13. Diamond Dogs (Live Nassau Coliseum '76)
14. Rebel Rebel (Live Nassau Coliseum '76)
15. The Jean Genie (Live Nassau Coliseum '76)
Disc 9
1. Rebel Rebel (Original Single Mix) (2014 Remastered Version)
2. Diamond Dogs (Australian Single Edit) (2016 Remastered Version)
3. Rebel Rebel (Us Single Version) (2014 Remastered Version)
4. Rock 'n' Roll With Me (Live) (Promotional Single Edit) (2016 Remastered Version)
5. Panic In Detroit (Live) (2016 Remastered Version)
6. Young Americans (Original Single Edit) (2016 Remastered Version)
7. Fame (Original Single Edit) (2015 Remastered Version)
8. Golden Years (Single Version) (2014 Remastered Version)
9. Station To Station (Single Edit) (2016 Remastered Version)
10. Tvc 15 (Original Single Edit) (2016 Remastered Version)
11. Stay (Single Edit) (2016 Remastered Version)
12. Word On A Wing (Single Edit) (2016 Remastered Version)
13. John, I'm Only Dancing (Again) (1975 Single Version) (2016 Remastered Version)