TAX, WALLY & OUTSIDERS
CLOUDBURST
Genre: Reissues
Label: UNIVERSAL
Releasedatum: 13-10-2017
Herkomst: NL
Item-nr: 3751553
EAN: 0602557790122
Dit artikel is vervallen en niet meer leverbaar
Recensie
Cloudburst is een 12 cd's tellende box met alle studioalbums van de legendarische nederbeatgroep The Outsiders en hun frontman Wally Tax.
Een grillig genie. Het is wellicht de beste en meest bondige manier om het fenomeen Wally Tax samen te vatten. Tax heeft ons veel moois nagelaten: de rauwe rock van The Outsiders, met songs die inmiddels gekoesterd worden door talloze Europese en Amerikaanse garagebands, en de mooie, soms wat miskende liedjes die hij later schrijft. De zanger, die na een turbulent leven in het voorjaar van 2005 op 57-jarige leeftijd overlijdt, is daarnaast een van de meest markante persoonlijkheden die de muziek in Nederland ooit heeft gekend. Het is verleidelijk te mijmeren over wat er nog meer in het vat gezeten had, maar we kunnen ook genieten van wat Tax ons wel heeft nagelaten.
Vijftig jaar na het eerste album The Outsiders verschijnt nu in een gelimiteerde en genummerde oplage (1500 stuks) deze boxset met alle originele albums, aangevuld met twee dubbel-cd's met bonusmateriaal. Hiervan zijn zeven tracks zelfs nog nooit eerder officieel uitgebracht. Alle albums zijn verpakt in replica's van de originele lp hoezen. Naast vele bijzondere foto's bevat het begeleidende boekje liner notes van de hand van gerenommeerd muziekjournalist Robert Haagsma.
Inhoud box:
1. The Outsiders - The Outsiders (1967)
2. Wally Tax - Love In (1967)
3. The Outsiders - C.Q. (1968)
4. Tax Free - Tax Free (1970)
5. Wally Tax - Wally Tax (1974)
6. Wally Tax - Tax Tonight (1975)
7. Wally Tax And The Music - Springtime In Amsterdam (1989)
8. Wally Tax - The Entertainer (2002)
9. The Outsiders - More Outsiders (singles, outtakes, demos, rarities & instrumentals) (2CD)
10. Wally Tax - More Tax (singles, outtakes, demos, rarities & instrumentals) (2CD)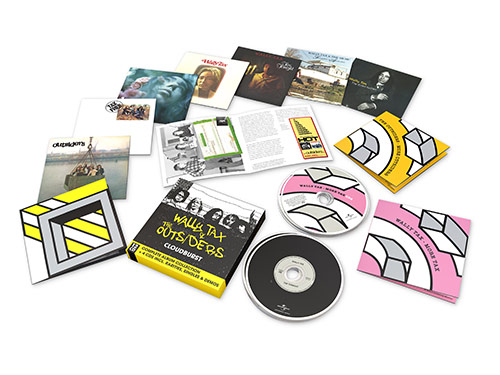 Tracks
Disc 1
1. Story 16
2. Tears Are Falling From My Eyes
3. Ain't Gonna Miss You
4. I Wish I Could
5. Afraid Of The Dark
6. Teach Me To Forget You
7. Filthy Rich
8. I Would Love You
9. Don't You Cry
10. Won't You Listen
11. If You Don't Treat Me Right
Disc 2
1. Misfit
2. Zsarrahh
3. C.q.
4. Daddy Died On Saturday
5. It Seems Like Nothing's Gonna Come My Way Today
6. Doctor
7. The Man On The Dune
8. The Bear
9. Happyville
10. You're Everything On Earth
11. Wish You Were Here With Me Today
12. I Love You No. 2
13. Prisonsong
Disc 3
1. Yiva
2. Along The Shadowed Quay
3. The Great Lie
4. Day Revealed Your Face
5. Ginny
6. Amsterdam
7. My Lady Truth
8. Evening
9. Back By The Quinnipiac
Disc 4
1. You Don't Have To Say You Love Me
2. Let's Forget What I Said
3. The Dream
4. I'm Not Important To You
5. Last Night
6. You Didn't Call Me
7. I've Been Too Good To You
8. Feeling So Fine
9. I'm Not To Blame
10. Standing At The Cross-Roads
11. Can't Forget About You
12. The Games We Play
Disc 5
1. It Ain't No Use
2. Hard Times
3. It's About Time
4. It Feels So Right (1St Song For Liesbeth)
5. Oh Mama
6. Save Some For Me
7. Miss Wonderful
8. Are You Worried
9. Evidently
10. She's As Lovely As A Breeze
11. Perfection
12. Take Me For What I Am
Disc 6
1. It's Too Late
2. She (Went Like She Came)
3. Everybody Needs Somebody
4. It's Raining In My Heart
5. No Love At All
6. Ain't No Fun To Me
7. This Girl Is Mine
8. Do It All Over
9. No Life At All
10. I Believe (In Love Again)
11. Today
12. The Party Is Over
Disc 7
1. Springtime In Amsterdam
2. Beautiful Friendship
3. Still Love (London Town)
4. Annie
5. You Didn't Have To
6. Birthday
7. Joyce
8. Another Woman
9. Linda
10. Fanny
Disc 8
1. The Entertainer
2. It's Gonna Hurt Forever
3. Cloudburst
4. Liar
5. Never Too Far
6. Still Can't Get You Off My Mind
7. Miss Wonderful
8. Yellow
9. Fake It Alone
10. As A Matter Of Fact
11. Mac Mac Nasty
12. You & I
Disc 9
1. You Mistreat Me (Single 1965)
2. Sun's Going Down (B-Side Single You Mistreat Me)
3. Felt Like I Wanted To Cry (Single 1966)
4. I Love Her Still, I Always Will (B-Side Single Felt Like I W
5. Lying All The Time (Single 1966)
6. Thinking About Today (B-Side Single Lying All The Time)
7. Keep On Trying (Single 1966)
8. That's Your Problem (B-Side Single Keep On Trying)
9. Stereo)
10. Ballad Of John B (B-Side Single Touch)
11. Monkey On Your Back (Single 1967)
12. What's Wrong With You (B-Side Single Monkey On Your Back)
13. Summer Is Here (Single 1967)
14. I've Been Loving You So Long (Single 1967)
15. I'm Only Trying To Prove Myself That I'm Not Like Everybody
16. So Long)
17. Don't You Worry About Me (Single 1967)
18. Bird In A Cage (B-Side Single Don't You Worry About Me)
19. Cup Of Hot Coffee (Single 1968)
20. Strange Things Are Happening (B-Side Single Cup Of Hot Coffe
21. I Don't Care (Single 1968)
22. You Remind Me (B-Side Single I Don't Care)
23. Do You Feel Alright (Single 1969)
Disc 10
1. Lying All The Time (Demo,take 2)
2. If You Don't Treat Me Right (Demo, Take 2)
3. Talk To Me (Demo, Take 2)
4. I Want To Know (Demo, Take 2)
5. Monkey On Your Back (Demo)
6. S
7. Ballad Of John B (Try-Out, Live At De Schuur, Breda / 1967)
8. I Love Her Still, I Always Will (Try-Out, Live At De Schuur,
9. Set Me Free (Try-Out, Live At De Schuur, Breda / 1967)
10. Won't You Listen (Try-Out, Live At De Schuur, Breda / 1967)
11. Misfit (Demo)
12. I Don't Care (Demo)
13. One, Two, Three, Four (Doctor) (Demo)
14. You're Everything On Earth (Demo)
15. The Man On The Dune (Demo)
16. Happyville (Demo)
17. You Remind Me (Demo)
18. Do You Feel Alright (Demo)
19. M.e. Song (Demo)
20. Prisonsong (Demo)
21. Wish You Were Here With Me Today (Demo)
22. I Love You No. 2 (Demo)
23. Space (Demo)
24. Outtake
Disc 11
1. I Sat And Thought And Wondered Why (Single 1967)
2. You Don't Have To Tell Me (B-Side Single I Sat And Thought A
3. I Won't Feel Alone (Single 1967)
4. Come Closer (B-Side Single I Won't Feel Alone)
5. A Husband And A Kid (Outtake)
6. Yiva (Single Version)
7. Crown Of Creation (For Marjolein) (Si
8. Tomorrow (B-Side Single Crown Of Crea
9. Always Loved You (Acoustic Demo)
10. Take Me For What I Am (Demo)
11. Have I Done You Wrong (Acoustic Demo)
12. Miss Wonderful (Demo)
13. Write Me An Answer To My Song (Acoustic Demo)
14. Bridges Are Burning (Demo)
15. Take Me For What I Am (Acoustic Demo)
16. Lots Of Luck (Demo)
17. We're Going Out Tonight (Acoustic Demo)
18. It Ain't No Use (Demo)
19. It Feels So Right (Acoustic Demo)
20. Evidently (Demo)
21. Oh Mama (Demo)
Disc 12
1. Introduction 0:07
2. Bridges Are Burning (Single 1974)
3. Lots Of Luck (B-Side Single Bridges Are Burning)
4. Today (Demo)
5. Today (Reprise)
6. It's Raining In My Heart (Demo)
7. It's Raining In My Heart (Reprise)
8. She (Demo)
9. Let's Dance (Single 1976)
10. Let's Dance (Demo)
11. The Entertainer (Demo)
12. Lying All The Time (Demo)
13. Do You Feel Alright (Demo)
14. This Is War (Demo)
15. Sister Please (Demo)
16. We Can't Hide Anymore (Demo)
17. Molly Mine (From Dichter Bij Huis Part 2, Album By Lineke La
18. Wally's Answering Machine