Recensie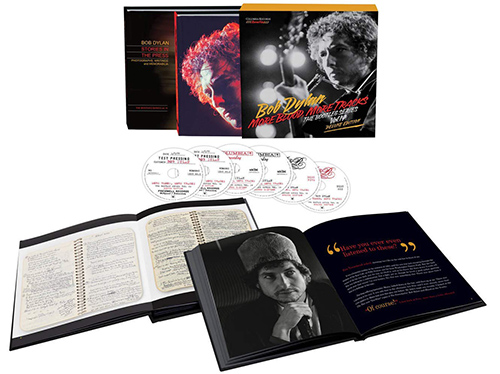 Over de vraag wat nu het beste album van Bob Dylan is, zullen de meningen verdeeld blijven, net zoals over wat nu eigenlijk de 'heilige graal' van niet eerder uitgebrachte opnames is. Vast staat dat Blood On The Tracks tot de allersterkste Dylan-albums behoort, en na het elfde deel van de Bootleg Series (de complete Basement Tapes) en het twaalfde (de studiosessies uit 1965 en 1966), stonden de complete New York-sessies voor Blood On The Tracks (1974) bovenaan de verlanglijst van menig Dylan-liefhebber.
Dit veertiende deel biedt precies dat. Op de enkele cd louter de hoogtepunten (en die zijn er te over) met alternatieve takes van de nummers op het oorspronkelijke album, aangevuld met Up To Me, maar zonder versies van Call Letter Blues en de enkele opwarmtake van Spanish Is The Lover's Tongue. Op de 6cd-versie krijgen we alles van de sessies in New York, van de allereerste take van If You See Her, Say Hello, tot een nog nooit eerder gehoorde versie van Simple Twist Of Faith met elektrische gitaar en akoestische solo in de overdub tot kale versies van Up To Me (zonder bas) en You're A Big Girl Now (zonder pedal steel) én allemaal voor het eerst in de juiste snelheid. De eerste testpersing van het album was namelijk met 2% versneld. Nadat al een uitvoerige hoestekst was geschreven die later een Grammy zou winnen, besloot Dylan met lokale muzikanten in Minneapolis de helft van het album opnieuw op te nemen. Van die sessies zijn (vooralsnog?) geen outtakes gevonden, daarvan dus de al uitgebrachte versies.
De in de deluxe-versie opgenomen replica van het notitieboek laat op fascinerende wijze zien hoe Dylan zijn teksten aanscherpte en ook opzettelijk minder concreet maakte. Naar eigen zeggen is Blood On The Tracks niet de plaat over zijn verwijdering van zijn vrouw Sara, maar vooral geïnspireerd door de korte verhalen van Tsjechov en zijn schilderlessen. In een ander interview reageerde Dylan korzelig op de opmerking dat velen Blood On The Tracks als zijn beste album zagen: 'Ik begrijp niet hoe iemand plezier kan beleven aan zoveel pijn.' Hoe dan ook, dit veertiende deel van The Bootleg Series is essentieel.
DISC 1
A & R Studios
New York
September 16, 1974
If You See Her, Say Hello (Take 1) – solo
If You See Her, Say Hello (Take 2) – solo – previously released on The Bootleg Series, Vols. 1-3: Rare and Unreleased, 1961-1991
You're a Big Girl Now (Take 1) – solo
You're a Big Girl Now (Take 2) – solo
Simple Twist of Fate (Take 1) – solo
Simple Twist of Fate (Take 2) – solo
You're a Big Girl Now (Take 3) – solo
Up to Me (Rehearsal) – solo
Up to Me (Take 1) – solo
Lily, Rosemary and the Jack of Hearts (Take 1) – solo
Lily, Rosemary and the Jack of Hearts (Take 2) – solo – included on Blood On The Tracks test pressing
Bob Dylan – vocals, guitar, harmonica
DISC 2
A & R Studios
New York
September 16, 1974
Simple Twist of Fate (Take 1A) – with band
Simple Twist of Fate (Take 2A) – with band
Simple Twist of Fate (Take 3A) – with band
Call Letter Blues (Take 1) – with band
Meet Me in the Morning (Take 1) – with band – edited version included on Blood On The Tracks test pressing and previously released on Blood On The Tracks
Call Letter Blues (Take 2) – with band – previously released on The Bootleg Series, Vols. 1-3: Rare and Unreleased, 1961-1991
Idiot Wind (Take 1) – with bass
Idiot Wind (Take 1, Remake) – with bass
Idiot Wind (Take 3 with insert) – with bass
Idiot Wind (Take 5) – with bass
Idiot Wind (Take 6) – with bass
You're Gonna Make Me Lonesome When You Go (Rehearsal and Take 1) – with band
You're Gonna Make Me Lonesome When You Go (Take 2) – with band
You're Gonna Make Me Lonesome When You Go (Take 3) – with band
You're Gonna Make Me Lonesome When You Go (Take 4) – with bass
You're Gonna Make Me Lonesome When You Go (Take 5) – with band
You're Gonna Make Me Lonesome When You Go (Take 6) – with band
You're Gonna Make Me Lonesome When You Go (Take 6, Remake) – with band
You're Gonna Make Me Lonesome When You Go (Take 7) – with band
You're Gonna Make Me Lonesome When You Go (Take 8) – with band
Bob Dylan: vocals, guitar, harmonica
Eric Weissberg, Charles Brown III, Barry Kornfeld: guitars
Thomas McFaul: keyboards
Tony Brown: bass
Richard Crooks: drums
Buddy Cage: steel guitar (5-6)
DISC 3
A & R Studios
New York
September 16, 1974
Tangled Up in Blue (Take 1) – with bass
A & R Studios
New York
September 17, 1974
You're a Big Girl Now (Take 1, Remake) – with bass and organ
You're a Big Girl Now (Take 2, Remake) – with bass, organ, and steel guitar –included on Blood On The Tracks test pressing and previously released on Biograph
Tangled Up in Blue (Rehearsal) – with bass and organ
Tangled Up in Blue (Take 2, Remake) – with bass and organ
Spanish Is the Loving Tongue (Take 1) – with bass and piano
Call Letter Blues (Rehearsal) – with bass and piano
You're Gonna Make Me Lonesome When You Go (Take 1, Remake) – with bass and piano
Shelter from the Storm (Take 1) – with bass and piano – previously released on the Jerry McGuire original soundtrack
Buckets of Rain (Take 1) – with bass
Tangled Up in Blue (Take 3, Remake) – with bass
Buckets of Rain (Take 2) – with bass
Shelter from the Storm (Take 2) – with bass
Shelter from the Storm (Take 3) – with bass
Shelter from the Storm (Take 4) – with bass – previously released on Blood On The Tracks
Bob Dylan: vocals, guitar, harmonica
Tony Brown: bass
Paul Griffin: keyboards (2-9)
Buddy Cage: steel guitar (3)
DISC 4
A & R Studios
New York
September 17, 1974
You're Gonna Make Me Lonesome When You Go (Take 1, Remake 2) – with bass
You're Gonna Make Me Lonesome When You Go (Take 2, Remake 2) – with bass – previously released on Blood On The Tracks
A & R Studios
New York
September 18, 1974
Buckets of Rain (Take 1, Remake) – solo
Buckets of Rain (Take 2, Remake) – solo
Buckets of Rain (Take 3, Remake) – solo
Buckets of Rain (Take 4, Remake) – solo
A & R Studios
New York
September 19, 1974
Up to Me (Take 1, Remake) – with bass
Up to Me (Take 2, Remake) – with bass
Buckets of Rain (Take 1, Remake 2) – with bass
Buckets of Rain (Take 2, Remake 2) – with bass
Buckets of Rain (Take 3, Remake 2) – with bass
Buckets of Rain (Take 4, Remake 2) – with bass – previously released on Blood On The Tracks
If You See Her, Say Hello (Take 1, Remake) – with bass – previously included on Blood On The Tracks test pressing
Up to Me (Take 1, Remake 2) – with bass
Up to Me (Take 2, Remake 2) – with bass
Up to Me (Take 3, Remake 2) – with bass
Buckets of Rain (Rehearsal) – with bass
Meet Me in the Morning (Take 1, Remake) – with bass – previously released on the "Duquesne Whistle" 7" single
Meet Me in the Morning (Take 2, Remake) – with bass
Buckets of Rain (Take 5, Remake 2) – with bass
Bob Dylan: vocals, guitar, harmonica
Tony Brown: bass (1-2, 7-20)
DISC 5
A & R Studios
New York
September 19, 1974
Tangled Up in Blue (Rehearsal and Take 1, Remake 2) – with bass
Tangled Up in Blue (Take 2, Remake 2) – with bass
Tangled Up in Blue (Take 3, Remake 2) – with bass – included on Blood On The Tracks test pressing and previously released on The Bootleg Series, Vols. 1-3: Rare and Unreleased, 1961-1991
Simple Twist of Fate (Take 2, Remake) – with bass
Simple Twist of Fate (Take 3, Remake) – with bass – previously released on Blood On The Tracks
Up to Me (Rehearsal and Take 1, Remake 3) – with bass
Up to Me (Take 2, Remake 3) – with bass – previously released on Biograph
Idiot Wind (Rehearsal and Takes 1-3, Remake) – with bass
Idiot Wind (Take 4, Remake) – with bass
Idiot Wind (Take 4, Remake) – with organ overdub – included on Blood On The Tracks test pressing and previously released on The Bootleg Series, Vols. 1-3: Rare and Unreleased, 1961-1991
You're a Big Girl Now (Take 1, Remake 2) – with bass
Meet Me in the Morning (Take 1, Remake 2) – with bass
Meet Me in the Morning (Takes 2-3, Remake 2) – with bass
Bob Dylan: vocals, guitar, harmonica
Tony Brown: bass
DISC 6
A & R Studios
New York
September 19, 1974
You're a Big Girl Now (Takes 3-6, Remake 2) – with bass
Tangled Up in Blue (Rehearsal and Takes 1-2, Remake 3) – with bass
Tangled Up in Blue (Take 3, Remake 3) – with bass
Sound 80 Studio
Minneapolis, MN
December 27, 1974
Idiot Wind – with band – previously released on Blood On The Tracks
You're a Big Girl Now – with band – previously released on Blood On The Tracks
Sound 80 Studio
Minneapolis, MN
December 30, 1974
Tangled Up in Blue – with band – previously released on Blood On The Tracks
Lily, Rosemary and the Jack of Hearts – with band – previously released on Blood On The Tracks
If You See Her, Say Hello – with band – previously released on Blood On The Tracks
Bob Dylan: vocals, guitar, harmonica, organ (4-5), mandolin (8)
Tony Brown: bass (1-3)
Chris Weber: guitar (4-6, 8)
Kevin Odegard: guitar (6)
Peter Ostroushko: mandolin (8)
Gregg Inhofer: keyboards (4-8)
Billy Peterson: bass (4, 6-7)
Bill Berg: drums (4-8)
All songs written by Bob Dylan except Spanish Is the Loving Tongue (traditional, arranged by Bob Dylan)
New York sessions originally engineered by Phil Ramone
Minneapolis sessions originally engineered by Paul Martinson