NEW ORDER
MOVEMENT -BOX SET-
Releasedatum: 05-04-2019
Herkomst: NL
Item-nr: 3952255
EAN: 0190295662882
Op werkdagen voor 16:00 besteld, morgen in huis.
Recensie
Als op 18 mei 1980 Ian Curtis zelfmoord pleegt blijven de overige drie Joy Division leden in vertwijfeling over. Snel wordt besloten de draad weer op te pakken om zo het verdriet te verwerken. Er wordt een demo gemaakt in de Western Works Studio waarop nog duidelijk te horen is dat er een richting wordt gezocht. Alle drie nemen de leadvocal in een van de tracks op zich en zelfs manager Rob Gretton 'zingt' een nummer. De echtgenote van drummer Stephen Morris, Gillian Gilbert wordt gevraagd de band te versterken op gitaar en keyboards. Een logische keuze, want zij viel al eerder in voor Bernard Sumner en Ian Curtis in Joy Division. Met haar wordt de tweede demo gemaakt in de Cargo Studios en daar horen we meteen een volgroeider geluid. Eerste single Ceremony wordt in twee edities uitgebracht, de eerste versie is nog zonder Gilbert. Ceremony en b-kant In A Lonely Place werden in de laatste weken voor Curtis' dood geschreven en ligt nog sterk in het verlengde Joy Division. Ook het debuutalbum Movement is niet ver weg van dat geluid, mede door de zeer herkenbare productie van Martin Hannett. Pas na dit album wordt de knoop door Gretton doorgehakt: Bernard Sumner is vanaf dat moment de zanger. Als de band dan in 1981 door de VS toert komen ze in aanraking met disco en electro, met de single Everything's Gone Green als gevolg. Opvolger Temptation is zelfs een vrolijk dansnummer en een voorbode op de wereldwijde doorbraak Blue Monday uit 1983.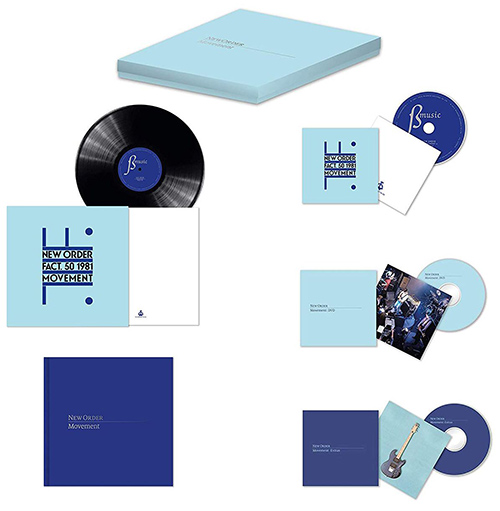 The four 12 inch singles Ceremony original version, Ceremony re-recorded version, Everythings Gone Green and Temptation will be released in their original sleeves.
LP / CD1 (original album)
1. Dreams Never End
2. Truth
3. Senses
4. Chosen Time
5. ICB
6. The Him
7. Doubts Even Here
8. Denial
CD2 (previously unreleased tracks)
1. Dreams Never End (Western Works Demo)
2. Homage (Western Works Demo)
3. Ceremony (Western Works Demo)
4. Truth (Western Works Demo)
5. Are You Ready For This? (Western Works Demo)
6. The Him (Cargo Demo)
7. Senses (Cargo Demo)
8. Truth (Cargo Demo)
9. Dreams Never End (Cargo Demo)
10. Mesh (Cargo Demo)
11. ICB (Cargo Demo)
12. Procession (Cargo Demo)
13. Cries And Whispers (Cargo Demo)
14. Doubts Even Here (Instrumental) (Cargo Demo)
15. Ceremony (1st Mix - Ceremony Sessions)
16. Temptation (Alternative 7")
17. Procession (Rehearsal Recording)
18. Chosen Time (Rehearsal Recording)
New Order - Movement DVD
Live Shows
Hurrah's, NY 1980
In A Lonely Place
Procession
Dreams Never End
Mesh
Truth
Cries & Whispers
Denial
Ceremony
Recorded on 27th September, 1980.
Produced, directed and filmed by Merrill Aldighieri
Peppermint Lounge, NY 1981
In A Lonely Place
Dreams Never End
Chosen Time
ICB
Senses
Denial
Everything's Gone Green
Hurt – instrumental
Temptation
TV Sessions
Granada Studios 1981
Doubts Even Here
The Him
Procession
Senses
Denial
BBC Riverside 1982
Temptation
Chosen Time
Procession
Hurt – instrumental
Senses
Denial
In A Lonely Place
Extras
Ceremony CoManCHE Student Union 1981
In A Lonely Place Toronto 1981
Temptation Soul Kitchen, Newcastle 1982
Hurt Le Palace, Paris 1982
Procession Le Palace, Paris 1982
Chosen Time Pennies 1982
Truth The Haçienda 1983
ICB Minneapolis 1983
Tracks
Disc 1
1. Dreams Never End
2. Truth
3. Senses
4. Chosen Time
5. Icb
6. The Him
7. Doubts Even Here
8. Denial
Disc 2
1. Dreams Never End
2. Truth
3. Senses
4. Chosen Time
5. Icb
6. The Him
7. Doubts Even Here
8. Denial
Disc 3
1. Dreams Never End (Western Works Demo)
2. Homage (Western Works Demo)
3. Ceremony (Western Works Demo)
4. Truth (Western Works Demo)
5. Are You Ready For This? (Western Works Demo)
6. The Him (Cargo Demo)
7. Senses (Cargo Demo)
8. Truth (Cargo Demo)
9. Dreams Never End (Cargo Demo)
10. Mesh (Cargo Demo)
11. Icb (Cargo Demo)
12. Procession (Cargo Demo)
13. Cries And Whispers (Cargo Demo)
14. Doubts Even Here (Instrumental) (Cargo Demo)
15. Ceremony Sessions)
16. Temptation (Alternative 7")
17. Procession (Rehearsal Recording)
18. Chosen Time (Rehearsal Recording)
Disc 4
1. In A Lonely Place
2. Procession
3. Dreams Never End
4. Mesh
5. Truth
6. Cries & Whispers
7. Denial
8. Ceremony
9. In A Lonely Place
10. Dreams Never End
11. Chosen Time
12. Icb
13. Senses
14. Denial
15. Everything's Gone Green
16. Instrumental
17. Temptation
18. Doubts Even Here
19. The Him
20. Procession
21. Senses
22. Denial
23. Temptation
24. Chosen Time
25. Procession
26. Instrumental
27. Senses
28. Denial
29. In A Lonely Place
30. Ceremony Comanche Student Union 1981
31. In A Lonely Place Toronto 1981
32. Temptation Soul Kitchen, Newcastle 1982
33. Hurt Le Palace, Paris 1982
34. Procession Le Palace, Paris 1982