Recensie
• 180 GRAM AUDIOPHILE VINYL
• GATEFOLD SLEEVE
• AVAILABLE ON VINYL FOR THE FIRST TIME
• ETCHED D-SIDE
• FEATURING "PARADISE IN DISTRESS", "EVIL LOVE
CHAIN", "BAD NEWS TO FALL IN LOVE" AND MANY MORE
• LIMITED 25TH ANNIVERSARY EDITION OF 1500
INDIVIDUALLY NUMBERED COPIES ON SILVER VINYL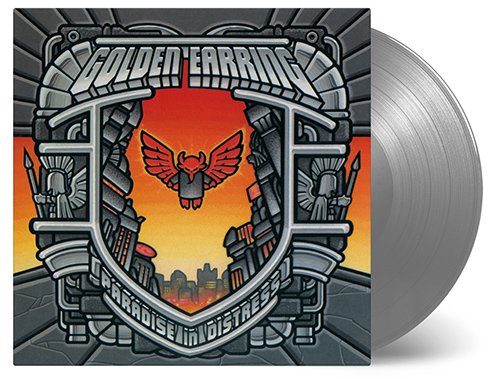 Just before the world was facing a new millennium the Dutch rock band Golden Earring released their album Paradise In Distress. The dark side of our existence is the central theme of the record, with songs like "Apocalypse" and "Evil Love Chain". Their sound is more progressive compared to their earlier albums. Some parts having those kicking and rocking Golden Earring tunes we know very well.
Golden Earring is one of the world's best-known bands from the Netherlands. During the 70's they even made it to the Billboard charts by releasing "Radar Love". Decades later they're still performing and bringing their big hits to large audiences.
Paradise In Distress limited 25th anniversary edition is available as 1500 individually numbered copies on silver vinyl.
Tracks
Disc 1
1. Paradise In Distress
2. Apocalypse
3. Evil Love Chain
4. Darling
5. Close My Eyes
6. The Fighter
7. One Night Without You
8. Whisper In A Crowd
9. Dij` Voodoo
Disc 2
1. Bad News To Fall In Love (With A Mean Motherfucker)
2. 42Nd Street
3. Fluid Conduction
4. Desperately Trying To Be Different
5. Gambler's Blues
6. Etched