Recensie
23 X 7INCH SINGLE BOX
Ten tijde van het uitkomen van de 2009 remasters op vinyl, en later opnieuw bij de release van de monoversie, is er al de vraag waarom de singles niet in een nieuwe versie verschijnen. Die gebeden worden nu verhoord. Men heeft ervoor gekozen om de 22 singles uit de actieve tijd van de Beatles opnieuw uit te brengen. Verwacht dus geen Beatles Movie-medley of dat soort fratsen, alhoewel er wel een extra single toegevoegd is in de vorm van Free As A Bird met op de b-kant Real Love. Heeft die single niet de oorspronkelijke b-kanten, de andere 22 hebben dat wel. Wel is er voor gekozen om de singles niet te voorzien van de oorspronkelijke hoezen, slechts Let It Be zit in een Engelse hoes. Om de ander singles zit een keer va internationale hoezen variërend van de Turkse hoes om Paperback Writer en de Noorse versie bij From Me To You tot aan de Chileense I Want To Hold Your Hand en de Argentijnse Eleonor Rigby. Wij kunnen trots zijn op onze hoes voor I Want To Hold Your Hand! Ik kan mij voorstellen dat puristen hier over vallen, aan de andere kant hebben we al te maken met een heruitgave met bijbehorend 'niet-origineel-zijn'. Qua uiterlijk sluit het boxje aan bij de eerdere vinylboxen. Mede gezien de prijs is dit een liefhebbersitem, maar het is echter wel een hele fraaie!
Tracklists
7" Singles Collection
Single 1 [Cover art from: US]
1. Love Me Do
2. P. S. I Love You
Single 2 [Cover art from: Italy]
1. Please Please Me
2. Ask Me Why
Single 3 [Cover art from: Norway]
1. From Me To You
2. Thank You Girl
Single 4 [Cover art from: Greece]
1. She Loves You
2. I'll Get You
Single 5 [Cover art from: Chile]
1. I Want To Hold Your Hand
2. This Boy
Single 6 [Cover art from: Austria]
1. Can't Buy Me Love
2. You Can't Do That
Single 7 [Cover art from: Holland]
1. A Hard Day's Night
2. Things We Said Today
Single 8 [Cover art from: Sweden]
1. I Feel Fine
2. She's A Woman
Single 9 [Cover art from: Spain]
1. Ticket To Ride
2. Yes It Is
Single 10 [Cover art from: Belgium]
1. Help!
2. I'm Down
Single 11 [Cover art from: France]
1. We Can Work It Out
2. Day Tripper
Single 12 [Cover art from: Turkey]
1. Paperback Writer
2. Rain
Single 13 [Cover art from: Argentina]
1. Eleanor Rigby
2. Yellow Submarine
Single 14 [Cover art from: Denmark]
1. Strawberry Fields Forever
2. Penny Lane
Single 15 [Cover art from: Germany]
1. All You Need Is Love
2. Baby, You're A Rich Man
Single 16 [Cover art from: Brazil]
1. Hello, Goodbye
2. I Am The Walrus
Single 17 [Cover art from: Japan]
1. Lady Madonna
2. The Inner Light
Single 18 [Cover art from: South Africa]
1. Hey Jude
2. Revolution
Single 19 [Cover art from: Portugal]
1. Get Back
2. Don't Let Me Down
Single 20 [Cover art from: Mexico]
1. The Ballad Of John And Yoko
2. Old Brown Shoe
Single 21 [Cover art from: Israel]
1. Something
2. Come Together
Single 22 [Cover art from: UK]
1. Let It Be
2. You Know My Name (Look Up The Number)
Single 23 [Cover art from: World Wide]
1. Free As A Bird
2. Real Love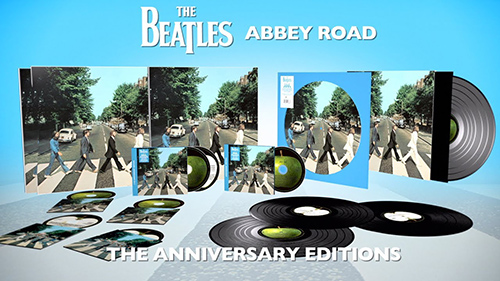 Tracks
Disc 1
1. Love Me Do (Original Single Version / Mono / 2009 Remaster / Past Masters Version)
2. P.s. I Love You (Mono / 2009 Remaster)
Disc 2
1. Please Please Me (Mono Version / Remastered 2009)
2. Ask Me Why (Mono / 2009 Remaster)
Disc 3
1. From Me To You (Mono Version / Remastered 2009)
2. Thank You Girl (Mono / 2009 Remaster)
Disc 4
1. She Loves You (Mono Version / Remastered 2009)
2. I'll Get You (Mono / 2009 Remaster)
Disc 5
1. I Want To Hold Your Hand (Mono / 2009 Remaster)
2. This Boy (Mono / 2009 Remaster)
Disc 6
1. Can't Buy Me Love (Mono / 2009 Remaster)
2. You Can't Do That (Mono / 2009 Remaster)
Disc 7
1. A Hard Day's Night (Mono / 2009 Remaster)
2. Things We Said Today (Mono / 2009 Remaster)
Disc 8
1. I Feel Fine (Mono / 2009 Remaster)
2. She's A Woman (Mono / 2009 Remaster)
Disc 9
1. Ticket To Ride (Mono / 2009 Remaster)
2. Yes It Is (Mono / 2009 Remaster)
Disc 10
1. Help! (Mono / 2009 Remaster)
2. I'm Down (Mono / 2009 Remaster)
Disc 11
1. We Can Work It Out (Mono / 2009 Remaster)
2. Day Tripper (Mono / 2009 Remaster)
Disc 12
1. Paperback Writer (Mono / 2009 Remaster)
2. Rain (Mono / 2009 Remaster)
Disc 13
1. Yellow Submarine (Mono / 2009 Remaster)
2. Eleanor Rigby (Mono / 2009 Remaster)
Disc 14
1. Strawberry Fields Forever (Mono / Remastered 2009)
2. Penny Lane (Mono / Remastered 2009)
Disc 15
1. All You Need Is Love (Mono / Remastered 2009)
2. Baby, You're A Rich Man (Mono / Remastered 2009)
Disc 16
1. Hello, Goodbye (Mono / Remastered 2009)
2. I Am The Walrus (Mono / Remastered 2009)
Disc 17
1. Lady Madonna (Mono / 2009 Remaster)
2. The Inner Light (Mono / 2009 Remaster)
Disc 18
1. Hey Jude (Mono / 2009 Remaster)
2. Revolution (Mono / 2009 Remaster)
Disc 19
1. Get Back (Mono / 2009 Remaster)
2. Don't Let Me Down (Mono / 2009 Remaster)
Disc 20
1. The Ballad Of John And Yoko (Remastered 2009)
2. Old Brown Shoe (Remastered 2009)
Disc 21
1. Something (Remastered 2009)
2. Come Together (Remastered 2009)
Disc 22
1. Let It Be (Remastered 2009)
2. You Know My Name (Look Up The Number) (Mono / 2009 Remaster)
Disc 23
1. Free As A Bird
2. Real Love