Recensie
4LP/DVD/7INCH/BOEK
Inclusief een mooi koffietafel boek van 194 pagina's!
Van het Holland Pop Festival, dat ook bekend staat als Kralingen 1970, Stamping Ground (de naam van de documentaire) of het Woodstock van Europa, zijn vele artikelen en enkele boeken gepubliceerd. Er werden LP's uitgebracht, er zijn films gemaakt en tentoonstellingen georganiseerd.
Om het 50-jarig bestaan te vieren hebben we net nog in 2020 een memorabele verzamelbox uitgebracht met daarin o.a. een boek waarin bezoekers van toen vertellen hoe het was om erbij te zijn en met niet eerder gepubliceerde foto's en documenten. Het is een unieke verzamelbox geworden, compleet met een geremasterde uitgave van de 3 bootleg LP's, een unieke geremasterde LP met niet eerder uitgebrachte opnamen van het Pink Floyd optreden, de single Moondog, een film van het festival op DVD en diverse mooie souvenirs in de vorm van de Festivalkrant, de poster van Aldridge, de Kralingen posters, een luchtfoto van het festival, de top 40 van eind juni 1970 en een uniek genummerde toegangskaart.
Box set released to celebrate the 50th anniversary of Holland Pop Festival. A Memorable box containing a book with previously unreleased photo material, 4 (white) lp's with the remastered edition of the original concert recordings, and a DVD with the documentary Stamping Ground. The box also includes a reproduction of the original festival poster and other memorabilia.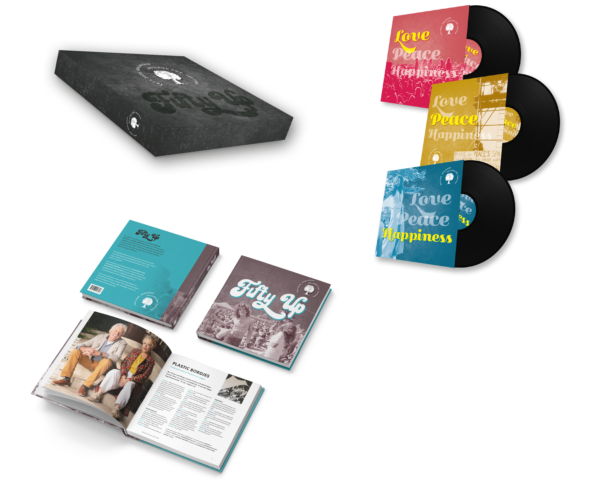 Tracklist
LP 1: Programma Vrijdag 26 juni 1970
1.1 –Stone The Crows Danger Zone
1.2 –Quintessence (3) Giants
1.3 –Canned Heat Human Condition
1.4 –East Of Eden (2) Irish Theme
1.5 –Hot Tuna Uncle Sam's Blue
1.6 –Santana Black Magic Woman
2.1 –Santana Soul Sacrifice
2.2 –Jefferson Airplane Somebody To Love
2.3 –Jefferson Airplane White Rabbit
2.4 –Jefferson Airplane Ballad Of You And Me & Pooneil
2.5 –Jefferson Airplane We Can Together
2.6 –Jefferson Airplane Volunteers
LP 2: Programma Zaterdag 27 Juni 1970
3.1 –T. Rex Is It Love?
3.2 –T. Rex By The Light Of The Magical Moon
3.3 –Pentangle Train Song
3.4 –Al Stewart Zero She Flies
3.5 –Country Joe McDonald Not So Sweet Martha Lorraine
3.6 –Country Joe McDonald She's A Bird
3.7 –Country Joe McDonald For No Reason
3.8 –Country Joe McDonald Freedom Is A Constant Struggle
4.1 –Dr. John When The Saint Go Marchin' In
4.2 –Dr. John Gris Gris Gumbo Yaya
4.3 –Family (6) Strange Band
4.4 –The Byrds You Ain't Going Nowhere
4.5 –The Byrds My Backpages
4.6 –The Byrds Jesus Is Just Allright
4.7 –The Byrds All The Things
4.8 –The Byrds So You Want To Be A Rock 'n Roll Star
LP 3: Programma Zondag 28 Juni 1970
5.1 –Fotheringay The Sea
5.2 –Fotheringay Nothing More
5.3 –Fotheringay Too Much Of Nothing
5.4 –Fotheringay Banks Of The Nile
5.5 –It's A Beautiful Day Wasted Union Blues
6.1 –It's A Beautiful Day Bulgaria
6.2 –Soft Machine Out Bloody Reageous Pt 1 & 2
6.3 –Soft Machine Esther's Nose Job
LP 4: Programma Maandag 29 Juni 1970
7.1 –Pink Floyd Astronomy Domine
7.2 –Pink Floyd Atom Heart Mother
8.1 –Pink Floyd Green Is The Colour
8.2 –Pink Floyd Careful With That Axe Eugene
8.3 –Pink Floyd Interstellar Overdrive
8,4 –Pink Floyd Announcement Holland Pop Festival 1970
Single: Moondog
a –Moondog (2) Stamping Ground
b –Moondog (2) Theme
Dvd: Holland Pop Festival
1 –Various Items Polygoon Hollands Nieuws Weeknummer 70-27
2 –Various Items Documentaire Stadsarchief Rotterdam "My Generation" met Ekseption en Leger Des Heils
3 –Tamalone I Love You I Leave You
4 –Various Items Peter Brouwer Over Poptoday En Documentaire Poptoday door Peter Brouwer en Gerrit Van Dijk
5 –Various Items Koos Zwart Uit 'Dit Is Het Begin'
6 –Various Items Documentaire 'Het Was.....' Door Peter Scholten
7 –Various Items Stamping Ground Filmversie Brazilie
9 –Various Items Dozy Radio Interview Met George Knap
Credits