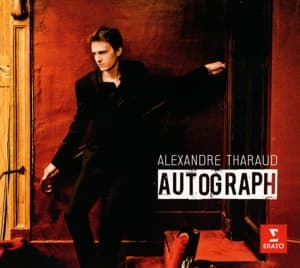 Drager: CD (Aantal 1)
Levertijd: 3 a 5 werkdagen
Herkomst: NL
Releasedatum: 25-10-2013
Item-nr: 3165047
EAN: 5099993413725
RECENSIE
Na zijn succesvolle album over de jazz in Parijs (Le Boeuf sur le toit) gaat de Franse pianist Alexandre Tharaud terug naar het concertpodium. Aan het einde van een recital verwacht het publiek een toegift. Het is dan de kunst om op het juiste moment in de juiste sfeer het juiste werk te spelen. Dit album bevat 23 gevarieerde muziekwerken van 22 componisten, die Tharaud als toegift speelt. Het betreffen populaire soms bewerkte stukken zoals de minutenwals van Chopin, Gymnopédie 3 van Satie, Grieg's vrolijke Trouwdag in Troldhaugen en de zwaan van Saint-Saëns. Met de bewerkingen van Bizet's Adagietto en Bach's Andante laat Tharaud niet alleen zien, dat hij een uitstekend pianist is die de vele stijlen vanaf de zeventiende eeuw in de vingers heeft, maar ook dat hij ook een getalenteerde arrangeur is.


Alexandre Tharaud: Autograph

Bach, J S:
Keyboard Concerto in B minor (after Torelli), BWV 979: Andante
arr. Tharaud
Bach, W F:
Prelude in B minor
arr. Siloti
Bizet:
Adagietto
arr. Tharaud
Cervantes:
Adios a Cuba
Chabrier:
Feuillet d'album
Chopin:
Waltz No. 6 in D flat major, Op. 64 No. 1 'Minute Waltz'
Couperin, F:

Pièces de clavecin III: Ordre 18ème in F major: Le Tic-Toc-Choc ou Les Maillotins

Fauré:
Romance sans paroles, Op. 17 No. 3
Gluck:
Orfeo ed Euridice (Orphée et Euridice): Dance of the Blessed Spirits
arr. Siloti
Godowsky:
The Swan (after Saint-Saens)
Grieg:
Lyric Pieces Op. 65: No. 6 - Wedding Day at Troldhaugen
Mendelssohn:
Song without Words, Op. 67 No. 2 in F sharp minor
Mompou:
El Lago (Le Lac)
Poulenc:
Mélancolie
Rachmaninov:
Prelude Op. 3 No. 2 in C sharp minor
Rameau:
Les Sauvages
Satie:
Gymnopédie No. 3
Scarlatti, D:
Keyboard Sonata K141 in D minor
Scriabin:
Prelude, Op. 9 No. 1 in C sharp minor for the left hand
Sibelius:
Valse Triste, Op. 44 No. 1
Strasnoy:
Tourbillon
Tailleferre:
Valse Lente
Tchaikovsky:
Nocturne in C sharp minor (No. 4 from Morceaux (6), Op. 19)
Alexandre Tharaud (piano)

After his intoxicating evocation of Jazz Age Paris with 'Le Boeuf sur le toit', French pianist Alexandre Tharaud again proves that good things come in small packages. This enticing collection of encore pieces – some very popular, others exotic – ranges across more than four centuries and comprises both original scores and arrangements.

This new album contains 23 pieces that make perfect encores at the end of a recital. Reflecting Tharaud's varied tastes in music, it comprises both original pieces and arrangements by composers from the 17th century to the present day.

Among the most popular pieces in the collection are Chopin's delightful 'Minute' Waltz (D-flat major, Op. 64, No. 1), Satie's enigmatic Gymnopédie No 3, Greig's joyous Wedding Day at Troldhaugen and Rachmaninov's brooding Prelude in C sharp minor. The works adapted for piano include a version of Sibelius' Valse triste, Saint-Saëns' Le Cygne (The Swan) in a virtuosic re-imagining by Leopold Godowsky, and the haunting B minor transcription of Bach's Prelude BWV 855a by Alexander Siloti, who was both Rachmaninov's teacher and his first cousin; the piece is particularly closely identified with the great Odessa-born pianist Emil Gilels. Tharaud's own skills as an arranger are shown in his versions of pieces by Bach and Bizet.
| | |
| --- | --- |
| Recensent | : Redactie |
| Datum | : 17-11-2013 |
| verschenen in Platomania | : 303 |
| Waardering | : 7.5 |
CD/DVD gratis verzending vanaf € 25,-
Vinyl gratis verzending vanaf € 50,-
Geen verzendkosten: