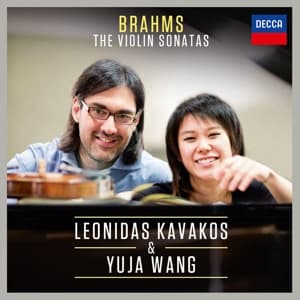 KAVAKOS, LEONIDAS/WANG, YUJA
BRAHMS THE VIOLIN SONATAS
Drager: CD (Aantal 1)
Levertijd: Op werkdagen voor 16:00 besteld, morgen in huis
Herkomst: NL
Releasedatum: 28-03-2014
Item-nr: 3232192
EAN: 0028947864424
RECENSIE
Brahms schreef zijn drie vioolsonates voor Joseph Joachim, die ook zeer nauw betrokken was bij diens vioolconcert – terecht nog altijd een van de meest geliefde vioolconcerten. De sonates zijn minder bekend, maar zeker net zo boeiend. Ze worden overtuigend vertolkt door Leonidas Kavakos, die eerder al indruk maakte met Beethovens vioolsonates en Sibelius' en Brahms' vioolconcert, en pianiste Yuja Wang. Beiden kiezen voor een ietwat afstandelijke benadering, wat uitstekend bij deze composities van Brahms past.


Brahms: Violin Sonatas Nos. 1-3 (complete)

Leonidas Kavakos (violin) & Yuja Wang (piano)

Leonidas Kavakos, the "exceptional violinist" (Daily Mail) follows his spectacular Brahms Violin Concerto recording by teaming up with star pianist Yuja Wang – "a prodigious talent, with an astonishing technique" (The Guardian) for the great Brahms Violin Sonatas

Leonidas Kavakos's third release for Decca makes a perfect supplement to his acclaimed Brahms Violin Concerto disc with Chailly.

'It's a long time since there was a new version of this concerto as good as this.' Andrew Clements, The Guardian (October 2013).

'There is a rapier-like cut-and-thrust about this performance that recalls the surging adrenaline-charge of Isaac Stern in full flight, with Kavakos emerging as the swashbuckling hero of the hour, taking all technical obstacles in his stride with soaring abandonment.' Julian Haylock, Sinfini (October 2013).

For the three sonatas Kavakos – an exclusive Decca artist – teams up with Wang, a former Gramophone Young Artist of the Year.

Their partnership at the 2013 Verbier Festival was much talked about (and broadcast on Medici) and they will be touring these works in April to major European cities.

The F-A-E Scherzo which Brahms contributed to a composite sonata (along with his friends Schumann and Dietrich) will be added as a bonus.

The three violin sonatas were written for Brahms's muse in all matters violin, Joseph Joachim, who also gave the premiere of the Violin Concerto and contributed its cadenzas.
| | |
| --- | --- |
| Recensent | : Redactie |
| Datum | : 28-03-2014 |
| verschenen in Platomania | : 307 |
| Waardering | : 9.0 |
CD/DVD gratis verzending vanaf € 25,-
Vinyl gratis verzending vanaf € 50,-
Geen verzendkosten: