Dit artikel is vervallen en niet meer leverbaar.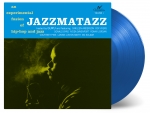 GURU
JAZZMATAZZ -COLOURED-
Drager: LP (Aantal 1) Levertijd: Niet meer leverbaar
Herkomst: NL Releasedatum: 2-03-2018 Item-nr: 3265132 EAN: 0600753486023
Introduction
Loungin'
When You're Near
Transit Ride
No Time To Play
Down The Backstreets
Respectful Dedications
Take A Look (At Yourself)
Trust Me
Slicker Than Most
Le Bien, Le Mal
Sights In The City
RECENSIE
• 180 GRAM AUDIOPHILE VINYL
• 25TH ANNIVERSARY EDITION
• GROUNDBREAKING ALBUM COMBINING HIP-HOP AND JAZZ
• LIMITED PRESSING OF 5.000 NUMBERED COPIES ON BLUE VINYL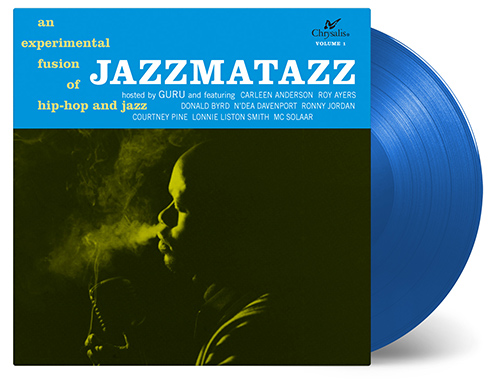 As labelled on the front sleeve Guru's Jazzmatazz Vol. 1 is "an experimental fusion of hip-hop and jazz" hosted by Guru (MC and band member of Gang Starr together with DJ Premier). This album was born out of Guru's love for jazz and was one of the first albums to fuse a live jazz band with Rap and R&B artists backed by Hip-Hop styled beats and production. Members of the band reads like a who's who of famous musicians and jazz icons, including Donald Byrd, Courtney Pine, Lonnie Liston Smith, Branford Marsalis, Ronny Jordan, Donald Byrd and Roy Ayers. Vocal collaborations are from Carleen Anderson, Brand New Heavies' singer N'Dea Davenport, Dee C Lee (from The Style Council), French rapper MC Solaar while Guru keeps the project in check with his loose laidback Hip-Hop flow.
When it was released in 1993, Guru's Jazzmatazz peaked at #24 on Billboard's Top R&B/Hip-Hop Albums chart but had far greater commercial success in Europe.
Unfortunately Guru (real name: Keith Edward Elam) passed away in 2010 but his legacy influenced Hip-Hop artists like Madlib (on his "Shades Of Blue" project), The Roots and many more.
The 25th Anniversary Edition of this groundbreaking Hip-Hop and Jazz album is pressed on blue vinyl in a limited run of 5.000 individually numbered copies.
| | |
| --- | --- |
| Recensent | : Redactie |
| Datum | : 15-02-2018 |
| Waardering | : 7.5 |
CD/DVD gratis verzending vanaf € 25,-
Vinyl gratis verzending vanaf € 50,-
Geen verzendkosten: