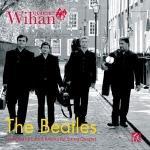 THE BEATLES ARRANGED FOR STRING QUA
Drager: CD (Aantal 1)
Levertijd: 11 a 14 werkdagen
Herkomst: NL
Releasedatum: 1-09-2014
Item-nr: 3280248
EAN: 0710357627224
RECENSIE
Vanaf 1985 heeft het Tsjechische Wihan Quartet naam gemaakt met onderscheidende opnamen van strijkkwartetten van Beethoven, Dvorak en Schubert. Dit album bestaat uit dertien arrangementen van Beatles songs voor strijkkwartet van hun landgenoot Luboš Krtička. Krtička – bekend om zijn film-, kamer en koormuziek en een rol in de Tsjechische rock en jazzwereld – brengt de Beatles songs op een originele terug naar het strijkkwartet. Bijzonder, omdat juist de Beatles zich hebben laten inspireren door diverse componisten. Het resultaat zijn bijzondere werkjes met hier en daar een pittige jazzy achtergrond zoals in I want you (She's so heavy). Eleanor Rigby en Yesterday klinken door de arrangementen anders dan het origineel. Een mooi album voor liefhebbers van The Beatles en strijkkwartetten.


Wihan Quartet - Beatles
The Beatles arranged by Luboš Krtička for String Quartet
1. Eleanor Rigby [Lennon/McCartney] 1.55
2. Blackbird [Lennon/McCartney] 4.13
3. Can't Buy Me Love [Lennon/McCartney] 3.09
4. Julia [Lennon/McCartney] 4.02
5. Come Together [Lennon/McCartney] 2.46
6. Here Comes the Sun [George Harrison] 2.58
7. Lucy in the Sky with Diamonds [Lennon/McCartney] 3.36
8. Michelle [Lennon/McCartney] 3.15
9. I Will [Lennon/McCartney] 2.43
10. Yesterday [Lennon/McCartney] 3.37
11. Honey Pie [Lennon/McCartney] 3.00
12. The Fool on the Hill [Lennon/McCartney] 3.16
13. I Want You (She's So Heavy) [Lennon/McCartney] 4.45
The Wihan Quartet
Wihan Quartet bestaat uit

Leoš Čepický (viool), Jan Schulmeister (viool), Jiří Žigmund (altviool) en Aleš Kaspřík (cello)

According to the American composer Aaron Copland, the bestway of learning something about the sixties is by listening to The Beatles' records. Without any doubt, the music of The Beatles has been a major phenomenon not only of the sixties, but of the 20th century as a whole and their inspiring tunes will continue to live in the widest variety of formats and arrangements. This CD brings together carefully selected and imaginatively arranged songs by Luboš Krtička (b.1965), a composer of chamber, choral and film music who is also active on the Czech rock and jazz music scene.
| | |
| --- | --- |
| Recensent | : Redactie |
| Datum | : 26-07-2014 |
| verschenen in Platomania | : 309 |
| Waardering | : 8.5 |
CD/DVD gratis verzending vanaf € 25,-
Vinyl gratis verzending vanaf € 50,-
Geen verzendkosten: