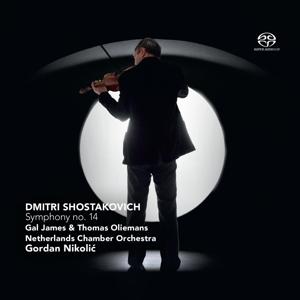 NICOLIC, GORDAN / NETHERLANDS CHAMB
SYMPHONY NO. 14
Drager: HSA (Aantal 1)
Levertijd: 3 a 5 werkdagen
Herkomst: NL
Releasedatum: 8-10-2014
Item-nr: 3322499
EAN: 0608917265422
RECENSIE
Dmitri Shostakovich schreef zijn 14e symfonie, voor sopraan, bas, klein strijkorkest en slagwerk, in 1969 en droeg deze op aan Benjamin Britten. De inhoud heeft meer weg van een liederencyclus, want hij gebruikte 11 gedichten van 4 dichters (Lorca, Apollinaire, Küchelbecker en Rilke) in de Russische vertaling. Het centrale thema is het niet accepteren van de vroegtijdige onnatuurlijke dood door ingrijpen van andere mensen. De trage uitvoering (ruim 55 minuten) geeft het een extra zware lading. Het is te horen dat Russisch niet de moedertaal is van de solisten James en Oliemans, maar de beleving is er zeker.


Shostakovich: Symphony No. 14 in G minor, Op. 135

Gal James (soprano) & Thomas Oliemans (bass)
Netherlands Chamber Orchestra, Gordan Nikolic

On this Hybrid SACD the Netherlands Chamber Orchestra and its highly-regarded conductor and musical director Gordan Nikolic, perform one of Shostakovich's last and most introspective works, the 14th Symphony, opus 135. The featured soloists are the soprano Gal James and the bass Thomas Oliemans.

Gordan Nikolic has been the musical director, concertmaster and face of the Netherlands Chamber Orchestra since 2004. He studied at the Academy of Music in Basle with the well-known French violinist and conductor Jean-Jacques Kantorow and has steeped himself in Baroque music, whilst also working with contemporary composers such as Lutoslawski and Kurtág. He has performed with numerous orchestras in Europe, and the posts he has held include concertmaster of the London Symphony Orchestra, professor at the Royal College of Music and the Guildhall School of Music, and lecturer at the Rotterdam Conservatorium.

The Israeli soprano Gal James is rapidly gaining recognition as a one of the most important voices of her generation. She has won several major competitions, including first prize in the Aviv Vocal competition in Tel Aviv in 2005.

As with the 13th Symphony known as "Babi Yar" Dmitri Shostakovich's 14th Symphony, opus 135, is written in the form of a song cycle. However, whilst the 13th incorporates a large orchestra, all male choir and a bass soloist, the 14th was arranged for a relatively small string orchestra, supplemented with percussion, which accompanies and frames the soprano and bass soloists. The texts are drawn from the world of literature: two poems by the Spaniard Federico Garcia Lorca, six by Frenchman Guillaume Apollinaire, two from the German Rainer Maria Rilke and one poem of Russian origin, by Wilhelm Küchelbecker.
| | |
| --- | --- |
| Recensent | : Redactie |
| Datum | : 30-10-2014 |
| verschenen in Platomania | : 313 |
| Waardering | : 8.0 |
CD/DVD gratis verzending vanaf € 25,-
Vinyl gratis verzending vanaf € 50,-
Geen verzendkosten: