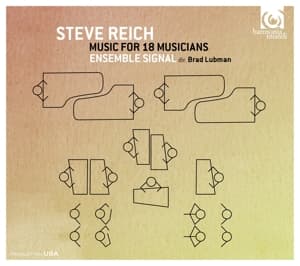 Drager: CD (Aantal 1)
Levertijd: 3 a 5 werkdagen
Herkomst: NL
Releasedatum: 11-05-2015
Item-nr: 3384913
EAN: 0093046760823
RECENSIE
Een uur lang muziek die pulseert, stimuleert, fascineert en bedwelmt. Een van Steve Reich's meest kenmerkende werken gecomponeerd in de jaren 70. In 2013 werd het succesvol uitgevoerd op Lowlands. Het werk is een cyclus rondom 11 akkoorden met een kop, een staart en 11 secties daar tussenin. Reich's muziek met de verschuivende patronen wordt gerekend tot de minimal music. Het Ensemble Signal, dat New York als thuisbasis heeft, speelt onder leiding van Brad Ludman virtuoos en passievol. Vooral de basklarinetten, de marimba's en de piano's geven kracht aan de uitvoering. Terecht staat op de hoes een pluim van Reich vermeld.

Reich: Music for 18 Musicians

Ensemble Signal


Making its harmonia mundi début, New York-based Ensemble Signal performs Steve Reich's 'Music for 18 Musicians', a seminal masterpiece and the breakthrough composition of a pioneering composer who changed the course of 20th-century music.

'Music for 18 Musicians' is approximately 55 minutes long. The first sketches were made for it in May 1974 and it was completed in March 1976. Although its steady pulse and rhythmic energy relate to many of my earlier works, its instrumentation, structure and harmony are new. In his introduction to the score, Reich mentions that although the piece is named 'Music for 18 Musicians', it is not necessarily advisable to perform the piece with that few players due to the extensive doubling it requires. The structure of 'Music for 18 Musicians' is based on a cycle of eleven chords played at the very beginning of the piece and repeated at the end. All the instruments and voices play or sing the pulsating notes with each chord. Instruments like the strings which do not have to breathe nevertheless follow the rise and fall of the breath by following the breathing patterns of the bass clarinet. Each chord is held for the duration of two breaths, and the next chord is gradually introduced, and so on, until all eleven are played and the ensemble returns to the first chord.

Ensemble Signal, described by the New York Times as "one of the most vital groups of its kind," is a NY-based ensemble founded in 2008, dedicated to offering the broadest possible audience access to a diverse range of contemporary works through performance, commissioning, recording and education. Recent highlights have included a headliner performance of Steve Reich's 'Music for 18 Musicians' and 'Radio Rewrite' at the 2014 BIG EARS Festival in Knoxville, TN, and performing in the 2013 Lincoln Center Festival's production of 'Monkey: Journey to The Wes't, with music by Damon Albarn, directed by Chen Shi-Zheng. Upcoming highlights include the co-commission of a new work for large ensemble by Steve Reich, to be premiered in 2016-17 and the performance of Steve Reich's video opera 'Three Tales', as well as David Lang, Michael Gordon, and Julia Wolfe's video opera Shelter, on the LA Philharmonic's series at Walt Disney Concert Hall in May 2015.
| | |
| --- | --- |
| Recensent | : Peter Simmers |
| Datum | : 18-05-2015 |
| verschenen in Platomania | : 318 |
| Waardering | : 9.5 |
CD/DVD gratis verzending vanaf € 25,-
Vinyl gratis verzending vanaf € 50,-
Geen verzendkosten: