CD+2Bluray Limited Edition
Na de miljoenenverkoop van het album 1 waarop alle nummer 1 hits verzameld zijn, ontstond al snel het plan de songs te laten vergezellen van een bijbehorende clip. Immers, The Beatles waren echte pioniers op het gebied van de videoclip avant la lettre. Om alle fans over de hele wereld beeld te laten zien, werden van alle hits een filmpje gemaakt. Deze zijn nu allemaal verzameld en flink opgepoetst op deze nieuwe uitgave die in vele formaten leverbaar is. We zien in optimale beeld en geluidskwaliteit - Giles Martin maakte een remaster van alle nummers - een schat aan materiaal voorbij komen die zelfs de grootste Beatleskenner zal verrassen. Bekende clips als Strawberry Fields zien er fantastisch uit maar ook minder bekende opnames van bijv. Rain (in meerdere versies), Hello Goodbye (in alle drie versies) en een bijzonder fraaie door The Beatles zelf geregisseerde clip van I Feel Fine (eentje in de sportschool en een onder het genot van fish & chips - hilarisch!). De editie met twee dvd's bevat 23 extra clips die het geheel vervolmaken.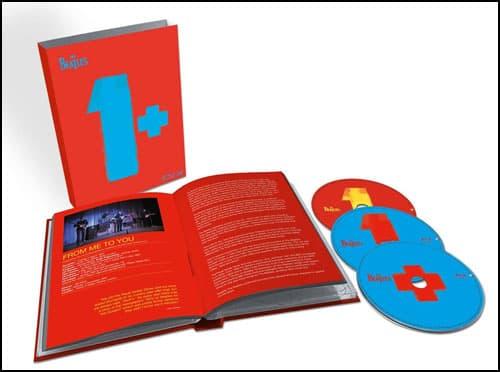 DISC 1 AUDIO (CD) + DISC 1 VIDEO (Blu-ray)
1. Love Me Do
2. From Me To You
3. She Loves You
4. I Want To Hold Your Hand
5. Can't Buy Me Love
6. A Hard Day's Night
7. I Feel Fine
8. Eight Days a Week
9. Ticket To Ride
10. Help!
11. Yesterday
12. Day Tripper
13. We Can Work It Out
14. Paperback Writer
15. Yellow Submarine
16. Eleanor Rigby
17. Penny Lane
18. All You Need Is Love
19. Hello, Goodbye
20. Lady Madonna
21. Hey Jude
22. Get Back
23. The Ballad of John and Yoko
24. Something
25. Come Together
26. Let It Be
27. The Long and Winding Road
DISC 1 VIDEO EXTRAS
Paul McCartney audio commentary
Ringo Starr filmed introductions
DISC 2 VIDEO (Blu-Ray)
1. Twist & Shout
2. Baby It's You
3. Words Of Love
4. Please Please Me
5. I Feel Fine
6. Day Tripper *
7. Day Tripper *
8. We Can Work It Out *
9. Paperback Writer *
10. Rain *
11. Rain *
12. Strawberry Fields Forever
13. Within You Without You/Tomorrow Never Knows
14. A Day In The Life
15. Hello, Goodbye *
16. Hello, Goodbye *
17. Hey Bulldog
18. Hey Jude *
19. Revolution
20. Get Back *
21. Don't Let Me Down
22. Free As A Bird
23. Real Love
DISC 2 VIDEO EXTRA
Paul McCartney audio commentary
Strawberry Fields Forever
* alternate version