Dit artikel is vervallen en niet meer leverbaar.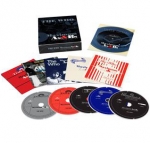 WHO
MAXIMUM AS & BS LTD.ED.)
Drager: CD (Aantal 5) Levertijd: Niet meer leverbaar
Herkomst: NL Releasedatum: 27-10-2017 Item-nr: 3741844 EAN: 0602557807059
Disc 1
Disc 3
Pinball Wizard
Dogs Part Two (2003 Stereo Version)
The Seeker (Edit)
Here For More
Summertime Blues (Live At Leeds University, Uk/1970 / Original Version)
Heaven And Hell (Mono Version)
See Me, Feel Me (Single Version)
Overture (Original Album Version)
Christmas (Edit)
I'm Free (Original Studio Version)
Won't Get Fooled Again (Single Edit)
Don't Know Myself
Let's See Action
When I Was A Boy
Join Together
Baby Don't You Do It (Live At The San Francisco Civic Auditorium, Usa / 1971)
Relay
Waspman
Disc 5
RECENSIE
Hadden Pete Townshend en Roger Daltrey toen zij samen met John Entwistle en Keith Moon als The High Numbers met de single I'm the Face debuteerden kunnen weten dat ze anno 2017 nog steeds met The Who zouden touren en een inmens oeuvre opgebouwd zouden hebben? Vanaf Tommy (1969) wordt de band vooral geroemd om talloze albumklassiekers, terwijl voor deze tijd de band vooral geroemd werd om de uitmuntende singles. Verzamelcd's van The Who zijn er in overvloed maar deze richten zich vooral op de grootste hits (afgezien van een verzameling met de B-kantjes die al jaren niet meer verkrijgbaar is). Op Maximum A's and B's zijn voor het eerst alle A- en B-kantjes van alle singles verzameld. Voor de doorsneeliefhebber wellicht wat veel van het goede, maar voor de doorgewinterde fan een must have. Het leukst zijn uiteraard de wat minder grote hits zoals Dogs en Athena en de vaak bizarre B-kantjes zoals Moon's onvergetelijke Waspman en In the City en de zwaar onderschatte songs van Entwistle zoals Doctor, Doctor en Heaven and Hell. Waar bij de meeste artiesten bij een verzameling van een dergelijke omvang – 5 cd's – al vaak halverwege het niveau daalt, weet deze tot het eind te boeien.
| | |
| --- | --- |
| Recensent | : Ron Bulters |
| Datum | : 21-10-2017 |
| verschenen in Platomania | : 342 |
| Waardering | : 8.0 |
CD/DVD gratis verzending vanaf € 25,-
Vinyl gratis verzending vanaf € 50,-
Geen verzendkosten: