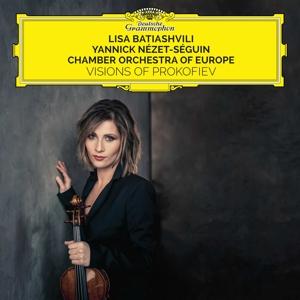 Drager: CD (Aantal 1)
Levertijd: Op werkdagen voor 16:00 besteld, morgen in huis
Herkomst: NL
Releasedatum: 2-02-2018
Item-nr: 3785147
EAN: 0028947985297
RECENSIE
In 1991 verhuist de dertienjarige Lisa Batiashvili met haar familie van Tbilisi naar Hamburg. Eén van de eerste werken die zij bij Mark Lubotsky studeert is het eerste vioolconcert van Prokofiev. Lubotsky – een leerling van David Oiskrakh – weet Lisa zodanig voor dit werk te enthousiasmeren, dat zij het werk in haar hart sluit. Dit eerste vioolconcert Lisa Batiashvili speelt een belangrijke rol in Lisa's schitternde loopbaan. Met Chamber Orchestra of Europe onder leiding van Yannick Nézet-Séguin neemt Lisa Batiashvili ook het tweede vioolconcert van Prokofiev op. Deze concerten worden omlijst met drie stukken uit de balletten van Prokofie, die Tamás Batiashvili voor zijn dochter voor viool en orkest heeft bewerkt. Het resultaat is een prachtig album die je zeker moet beluisteren.

Visions of Prokofiev

Lisa Batiashvili (violin)
Chamber Orchestra of Europe, Yannick Nézet-Séguin

After the outstanding critical acclaim of her previous album of Tchaikovsky & Sibelius Violin Concertos with Staatskapelle Berlin and Daniel Barenboim, Lisa Batiashvili presents a masterful version of Prokofiev's two violin concertos, in another first-class musical partnership, with Chamber Orchestra of Europe and Yannick Nézet-Séguin. With her unique talent to turn standard repertoire into something new, fresh, elegant and special, this album will allow the listener to rediscover Prokofiev through Lisa's eyes. Set for release on 2 February 2018, the album features the core classic Prokofiev (violin concertos), as well as selected movements of his famous ballets with their very recognizable tunes (Cinderella, Romeo and Juliet, The Love for Three Oranges), newly arranged for Solo Violin and Orchestra by Tamás Batiashvili, Lisa's father.
| | |
| --- | --- |
| Recensent | : Wil Zenhorst |
| Datum | : 1-11-2018 |
| verschenen in Platomania | : 345 |
| Waardering | : 8.5 |
CD/DVD gratis verzending vanaf € 25,-
Vinyl gratis verzending vanaf € 50,-
Geen verzendkosten: