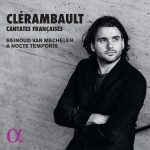 Drager: CD (Aantal 1)
Levertijd: 6 a 10 werkdagen
Herkomst: NL
Releasedatum: 15-01-2018
Item-nr: 3800900
EAN: 3760014193569
Sinfonia
Rezitativ: L'aurore Alloit Chasser Les Ombres De La Nuit
Arie: Doux Repos De L'indifference
Rezitativ: Le Berger S'endormoit Plein De Sa Resverie
Rezitativ: De Sa Gloire Environné
Arie: Ce N'est Point Pour Servir Les Volages Amours
Rezitativ: Alors Le Dieu Sur Un Char Préparé
Arie: Heros Des Siecles Passés
Arie: Revien Printemps
Air: Je Consens Que La Victoire
Rezitativ: Helas! Pour Mon C Ur Allarmé
Arie: Dieu Des Amants Prens Ma Deffence
Arie: Amour Venge Toy, Venge Moy
Arie: Revien Printemps
Rezitativ: Pour Oublier L'inconstante Climeine
Arie: Souffrez, Plaintive Philomele
Rezitativ: Ainsy De Son Tourment Il Se Plaignot Sans Cesse
Arie: Amour, Sur Un C Ur Trop Fidèlle
Rezitativ: Il Dit, Et Penetré D'une Douleur Mortelle
Arie: L'absençe, D'une Ardeur Extrème
Rezitativ: Pirame, Pour Tisbé, Dès La Plus Tendre Enfance
Arie: Si Votre Tendresse Est Extrème
Rezitativ: Tisbé, Pour Résister À L'ardeur De Ses V Ux
Rezitativ: Aux Pieds De Ces Tombeaux Sacrés
Rezitativ: Bientôt Au Gré De Leur Impatience
Air: Vole, Vole, Dit-Elle Amour
Rezitativ: Elle Cherchoit L'amant Qui La Tient Asservie
Plainte: Quoi? Tisbé Tu N'es Plus
Präludium: Venez Monstres Affreux
Aimable Et Cher Objet Ton Trepas Est Mon Crime
Arie: Amour, Qui Voudra Desormais
RECENSIE
Nicoloas Clérambault (1676-1749) is de zoon van één van de 24 gambisten van de koning. Op zijn dertiende schreef Nicoloas Clérambault zijn eerste Cantate. Clérambault die als meester van de Franse Cantates wordt gezien kreeg dan ook een geweldige opleiding. Naast zijn vader kreeg hij les van André Raison (orgel) en Jean-Baptiste Moreau voor compositieleer. Nicoloas Clérambault werd daarnaast begeleid door Guillaume-Gabriel Nivers die hij later als organist opvolgde. Het album bevat vier Cantates uit 1706, 1710, 1713 en 1720. Tenor Reinoud van Mechelen zingt prachtig. Hij wordt begeleid door fantastische musici op fluit, viool, viola da gamba en klavecimbel. Een album dat in de verzameling van liefhebbers van Cantates niet mag ontbreken.

Clérambault: Cantates Françaises

Reinoud Van Mechelen (tenor)
A Nocte Temporis

Grampohne:
March 2018
Van Mechelen carefully chose the repertoire, not merely for the most suitable vocal writing but also to illustrate some of Clérambault's preoccupations…From the opening track, the musicians perform with confidence, palpable style and rappot…Van Mechelen's emotional intelligence and vocal control are impressive…The instrumental playing…is expertly executed and perfectly balances the voice.


After a Bach album, the tenor Reinoud Van Mechelen and his ensemble A Nocte Temporis present a programme of French music devoted to Nicolas Clérambault (1676–1749), a precociously gifted composer who published four volumes comprising a total of twenty-one cantatas. Reinoud van Mechelen offers us an anthology of these Cantates Françaises – Le Jaloux with its final air 'Dieu des Amants', Apollon, L'Amour guéri par l'amour and Pirasme et Thisbé (based on Ovid's Metamorphoses) – set as a succession of recitatives, airs and simphonies, as in a tragédie lyrique. The young Flemish tenor, now aged thirty, pursues an intensive solo career with the leading Baroque conductors (Christie, Pichon, Niquet) but is also keen to develop his personal projects and his ensemble: 'I'm a purist but without elitism. Music has to appeal to people. Perhaps that requires them to make an effort and depends on different criteria from the somewhat sensationalist criteria of society, politics and money. But music must be more than a simple distraction, and many people actually want it that way', he told the Belgian newspaper Le Soir in 2017, when the Prix Caecilia named him 'Artist of the Year'.
| | |
| --- | --- |
| Recensent | : Wil Zenhorst |
| Datum | : 18-05-2018 |
| verschenen in Platomania | : 348 |
| Waardering | : 8.5 |
CD/DVD gratis verzending vanaf € 25,-
Vinyl gratis verzending vanaf € 50,-
Geen verzendkosten: