Dit artikel is vervallen en niet meer leverbaar.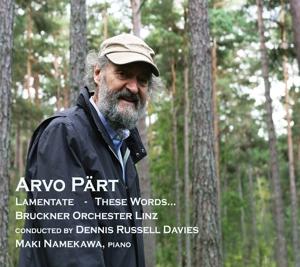 BRUCKNER ORCHESTER LINZ / DENNIS RU
LAMENTATE/THESE WORDS.
Drager: CD (Aantal 1) Levertijd: Niet meer leverbaar
Herkomst: NL Releasedatum: 1-02-2018 Item-nr: 3805727 EAN: 0801837012422
RECENSIE
In 2002 schreef Arvo Pärt Lamente zijn langste orkestwerk voor piano en orkest. Dit werk is een hommage van Pärt voor Anish Kapoor en zijn 150 meter lange beeldhouwwerk Marsyas dat in Tate Modern werd tentoongesteld. Marsyas is een figuur uit de Griekse mythologie, die een blaasinstrument uitvond. Hoewel Maki Namekawa prachtige solopartijen speelt, is dit geen pianoconcert. Pärt ziet het als een meditatief werk, dat de pijn en hopeloosheid van de wereld verbeeld. Dit werk werd bij de 75tigste verjaardag van Philip Glass gespeeld en verschijnt nu op OMM. Het label waar veel muziek van Glass wordt uitgebracht. Maki Namekawa zal in juni werken van Glass in Nederland uitvoeren. Het album wordt afgesloten met een eveneens indrukwekkend werk voor strijkorkest en percussie: These Words……

Pärt: Lamentate & These Words…

Maki Namekawa (piano)
Bruckner Orchester Linz, Dennis Russell Davies

Orange Mountain Music is pleased to announce the availability of a new album of music by Arvo Part, the most performed and celebrated composer alive. Building on the legacy of recordings that OMM has created in collaboration with the celebrated Bruckner Orchester Linz and conductor Dennis Russell Davies, this new recording features soloist Maki Namekawa performing the Part masterpiece LAMENTATE from 2002 for piano and orchestra. The piece was composed as an homage to Anish Kapoor and his sculpture Marsyas and was the piece selected by Philip Glass to be performed alongside the American premiere of his Ninth Symphony at Carnegie Hall as part of Glass 75th birthday celebration on January 31, 2012. Lamentate may be scored for piano and orchestra, but it is not a de facto piano concerto. The New York Times reported that Lamenatate is a -meditation on mortality, or as Mr. Pärt put it in his program note -the pain and hopelessness of the world.- Unusual fare for a birthday concert, perhaps, but the score has ample attractions, including lustrous, hypnotic string writing, a recurring and disquieting distant timpani rumbling and a graceful piano part often a single, singing line played with understated eloquence by Maki Namekawa. It was decided immediately after that 2012 concert to record this masterwork for OMM. An opportunity didn t present itself until early 2016 when Davies and the Bruckner Orchester Linz, towards the final months of Davies 15 year long tenure as music director, decided to enter the studio to record both Lamentate and -These Words... for string orchestra and percussion. The writer Eric Marinitsch described the 17 minute tone poem this way: -These Words.. uses the human foibles mentioned in the old Church Slavonic prayer from the Canon to the Guardian Angel, while the title derives from associations between this material and Shakespeare s Hamlet.
| | |
| --- | --- |
| Recensent | : Wil Zenhorst |
| Datum | : 18-05-2018 |
| verschenen in Platomania | : 348 |
| Waardering | : 8.5 |
CD/DVD gratis verzending vanaf € 25,-
Vinyl gratis verzending vanaf € 50,-
Geen verzendkosten: