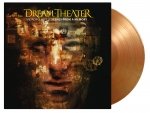 METROPOLIS PART 2:..-CLRD
Drager: LP (Aantal 2)
Levertijd: Op werkdagen voor 16:00 besteld, morgen in huis
Herkomst: NL
Releasedatum: 22-02-2019
Item-nr: 3933309
EAN: 8719262009561
Disc 1
Regression
Overture 1928
Strange Deja Vu
Through My Words
Fatal Tragedy
Beyond This Life
Through Her Eyes
Disc 2
Home
The Dance Of Eternity
One Last Time
The Spirit Carries On
Finally Free
RECENSIE
• 180 GRAM AUDIOPHILE VINYL
• INCLUDING INSERT
• GATEFOLD SLEEVE
• 20TH ANNIVERSARY EDITION
• LIMITED EDITION OF 5.000 INDIVIDUALLY NUMBERED COPIES ON COLOURED (SOLID ORANGE & GOLD MIXED) VINYL
Metropolis Pt. 2: Scenes From A Memory is the fifth studio album by American progressive metal/rock band Dream Theater. Originally released in 1999, it was recorded at BearTracks Studios in New York, where the band had previously recorded their second studio album Images And Words and the EP A Change of Seasons. The album is the sequel to "Metropolis-Part I: The Miracle And The Sleeper", a song previously featured on the band's 1992 album Images and Words. It was the first album to feature Jordan Rudess on keyboards. In 2012, Metropolis Pt. 2: Scenes From A Memory was voted as the number one all-time progressive rock album in a poll conducted by Rolling Stone, beating Rush's 2112 and Close to the Edge by Yes.

Dream Theater is one of the most successful bands in the progressive metal industry, having sold over 12 million records.

Metropolis Pt. 2: Scenes From A Memory is available as a limited edition of 5.000 individually numbered copies on coloured (solid orange & gold mixed) vinyl.

| | |
| --- | --- |
| Recensent | : Redactie |
| Datum | : 18-01-2019 |
| Waardering | : 7.5 |
CD/DVD gratis verzending vanaf € 25,-
Vinyl gratis verzending vanaf € 50,-
Geen verzendkosten: